Tasty Bingo Voucher Codes For New & Existing Users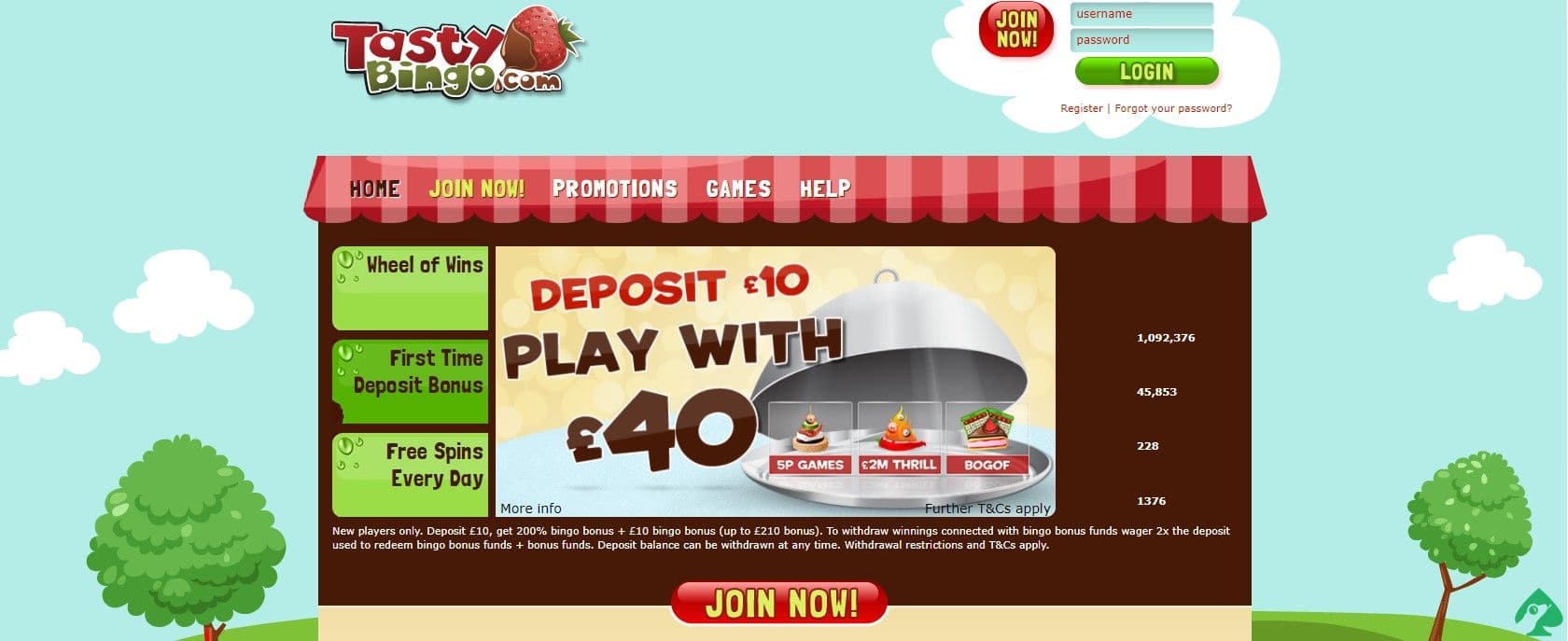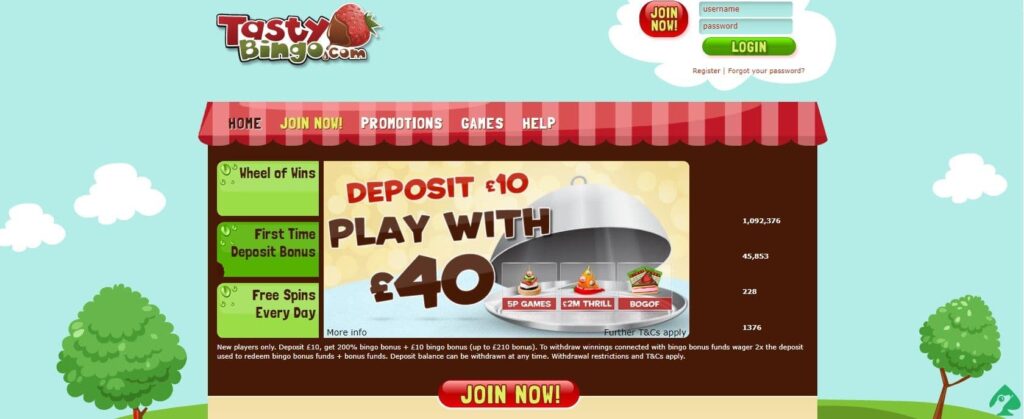 Tasty Bingo Casino is of the best options for you to get jackpots and prizes because it has everything that you would need in an online gambling hub and more. From the classic bingo roulette and spinning wheel games to modern games like 75 and 90 Ball, or slot game platforms, you will definitely find something that you will enjoy not only on your own but also with friends.
All bingo games were developed by DragonFish games so you don't have to worry about the quality and overall interface design at all. You just have to logon to enjoy!
Tasty Bingo Terms and Conditions
You must be 18 years old and above to join.
Minimum withdrawal and min deposit options amount to at least £10 each.
The website promotes fair gambling practices so you don't have to worry about the legalities of joining at all.
All the bingo games on the website are also available on the mobile app.
Promotional bonuses and balance boosters are available in every single page of the website.
Tasty Bingo Casino is properly licensed by the UK Gambling Commission.
It was established in May, 2010.
Deposit and Withdrawal Options
Available deposit and withdrawal options as well as payment methods include debit cards, PayPal, EntroPay and PaySafeCard. You will not have to worry about collecting your winnings or making wagers online because the website also employs secure algorithms to keep your data safe. The tasty bingo voucher codes that you win will be credited to your bingo bonus bankroll.
This UK based website is also available internationally so you don't have to worry about not being able to participate if you have been travelling abroad.
Types of Bonuses and Tasty Bingo Voucher Codes You Can Enjoy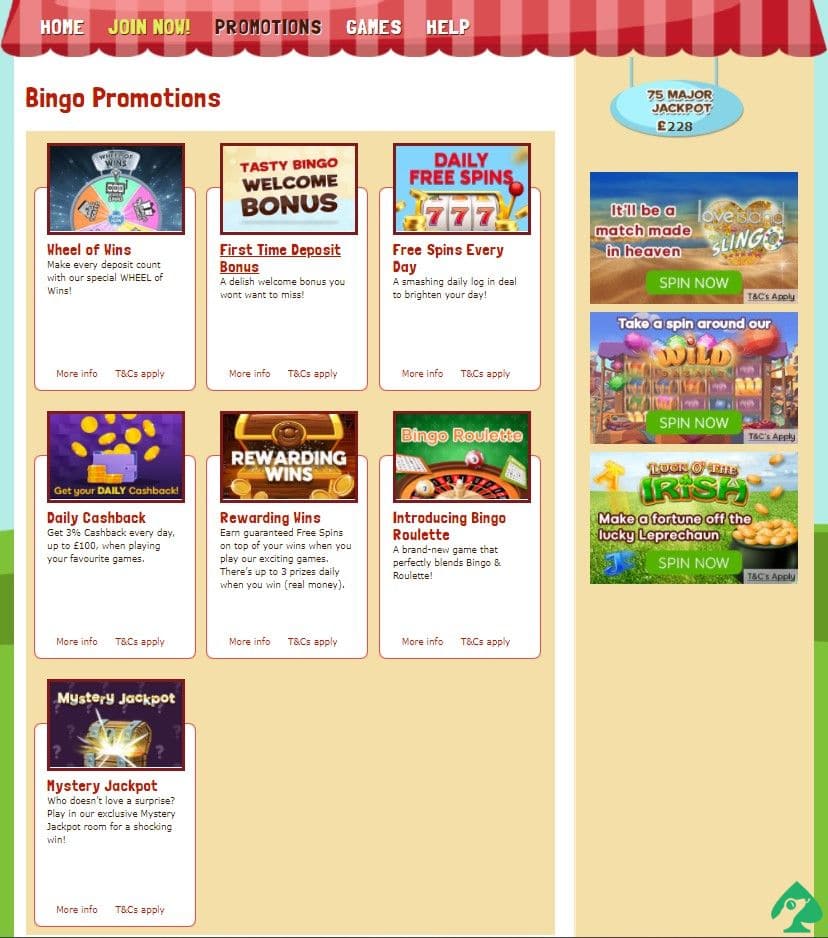 1. The Welcome Bonus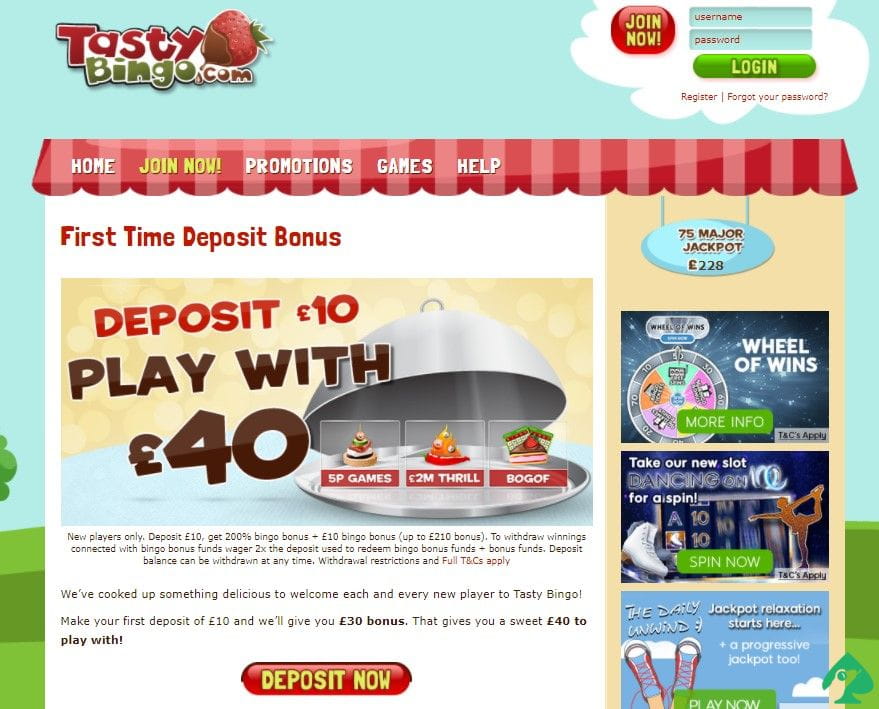 If you ever decide to join the website, you will get a £40 deposit bonus. The initial offer deposit will be divided into two—£30 for the bingo games and an extra £10 for the slot games. All you have to do is to register and log in as a new customer with the promotional code YUMMY50 to get started!
2. Free Bingo Days
Together with the welcome bonus, you will also get to enjoy three days of playing bingo games and casino for free. Yes. You will not have to pay for anything just to enjoy the bingo games bonus.
3. The Friday Feast
The website also has what they call the £200 Friday Feast. You will get 20 playing cards that can unlock more prizes and cash as soon as you participate.
4. The Cash Fountain
Every night from 7:00 PM till midnight, the website will be able to provide players to with a £500 jackpot. There's only one catch. The jackpot decreases over time so the quicker you win the bingo games, the larger your prize will be.
5. Slots and Bingo Tournaments
In these weekly games, players will have to battle it out against each other to win top spot in the leader board. The player who wins top spot will get bonus prizes.
6. Wheel of Wins
You will get free spins winnings if you deposit £10 using the promo code. You can use the free spins on the Wheel of Wins game and real money.
How to Activate the Tasty Bingo Bonus Code
There are many different ways to activate the bonuses in Tasty Bingo. You can use the Tasty Bingo promo code for the games or get the welcome bonus by depositing at least £10. After this, you will be able to play to your heart's content with all the free spins available.
Sometimes, you would have to fight another player for top spot to win bonus spins. That is if you join the tournament. Just start playing to get the free bonuses. You can also use the designated promotion code for each game to win free spins. There are different bonus wagering requirements for each Tasty Bingo bonus code.
What Is Important To Know Before Using The Tasty Bingo Bonuses?
Make sure that you have the right promotional codes before you try to get the free spins. Only one Tasty Bingo bonus code will be valid per game. In addition, the voucher code will only work within 24 upon claiming.
Tasty Bingo Customer Service
If you have any questions or complaints regarding any of the games, you can easily contact the Tasty Bingo customer service representatives via live chat or e-mail. Don't hesitate to visit the website for more information. You will not regret the experience.
Conclusion
With all these bonuses and prizes available, there is no reason for you not to try joining Tasty Bingo Casino. You will get to win a lot of prizes while still enjoying yourself in the comfort of your own home. If you're worried about the security of your funds, don't fret because the website has tight security algorithms that will be able to protect player funds without difficulty.
All you have to do now is to log on and enjoy!