Joining The Pools can be an exciting experience. This easy guide will help you set up your account in no time:
The Pools No Deposit Bonus
As of our most recent review on September 2023, The Pools does not offer a No Deposit Bonus. This means that, to participate in the platform's promotions or place bets, you will need to make a first deposit. However, as online betting companies frequently update their promotions and bonus offers, this could change in the future.
As always, we at Gamblizard are dedicated to providing you with the most accurate and timely information regarding all your gambling needs. We will keep a keen eye on The Pools and update our information should a No-Deposit Bonus become available.
In the meantime, you may want to explore No Deposit Bonuses offered by other casino brands. This page features a comprehensive list of current No-Deposit Bonuses from numerous reputable online casinos. Whether you're a beginner or an experienced player, these offers can provide a risk-free way to try out new platforms or games.
Remember, while no-deposit bonuses can provide a fun and potentially lucrative experience, it's always important to gamble responsibly. Be sure to read the terms and conditions of any bonus offer before you decide to participate.
After a comprehensive review of The Pools Casino, I can confidently say that this platform offers a compelling range of bonuses and promotions that cater to both casino and sports betting enthusiasts.

The Pools Welcome Offer sets the stage for an exciting online betting experience, making it a perfect entry point for newcomers. It combines the thrill of sports betting with the excitement of slot games, offering a well-balanced package.

The Pools Sign Up Offer is another impressive promotion. With 300 free spins on the table, it provides an excellent opportunity to boost your potential winnings while enjoying a top-rated slot game.

The Pools also shows a clear understanding of lottery players' needs with its Lucky Bundle and Millionaire Bundle offers. These packages provide a thrilling opportunity to participate in some of the most popular and potentially rewarding lottery games. The addition of free plays on both bundles further enhances their appeal, making them an attractive option for lottery enthusiasts.

Unfortunately, The Pools doesn't offer a No Deposit Bonus. However, given the quality and variety of other bonuses and promotions it does offer, this doesn't detract significantly from the overall player experience.

The Pools provides a comprehensive selection of promotions that cater to a wide range of gambling preferences. There is something for everyone, from sports betting to casino games and lottery. Clearly, The Pools puts customer satisfaction at the forefront, making it a worthwhile choice for new and seasoned players.

Rating the bonuses offered by The Pools is no easy task, but considering the variety and appeal of their packages, as well as the fair terms and conditions, I am happy to award The Pools a solid 4.5 out of 5 for its bonuses.

As always, read through the terms and conditions before opting into any bonus offer, and if you have any concerns, The Pools' excellent customer service team is available to assist you.

Jamie Wall, Casino Analyst
The Pools Сustomer Support
Regarding customer service, The Pools offers an all-rounded and comprehensive service that addresses all possible needs with various ways to reach out, rest assured that help is always available for any inquiries or issues.
Here is a breakdown of the customer support options provided by The Pools:
Contact Method
Details
Live Chat
Accessible via the live chat icon on the website. Available Monday to Saturday from 8:30am to 10pm and Sunday from 12pm to 10pm.
Email
Direct your inquiries to

[email protected]

. Remember not to share sensitive personal information over email.
Call
Phone support is available at 0800 500 000.
Mail
Send your letters to Customer Support, The Pools, Walton House, 55 Charnock Road, Liverpool, L67 1AA.
Before reaching out to the customer service team, The Pools recommends checking their 'Help' section, where many common questions and problems are already addressed. This can save you time and get your issue resolved even faster.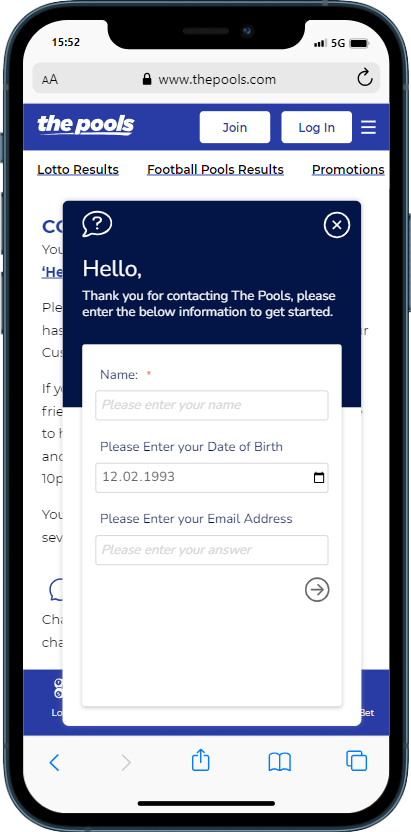 As for response times, the live chat offers instant assistance during their operation hours, while emails and written letters may take a bit more time due to processing. Nonetheless, the customer service team is dedicated to delivering efficient and helpful support.
The Pools Deposit Methods Review
Depositing funds into your The Pools account is simple. The platform supports several popular payment methods, ensuring a hassle-free transaction experience for its users.
Here is a breakdown of the deposit methods and their relevant details:
| Payment Method | Min Deposit | Max Deposit | Commission | Deposit Speed |
| --- | --- | --- | --- | --- |
| VISA | £5 | Varies by bank | No Commission | Instant |
| MasterCard | £5 | Varies by bank | No Commission | Instant |
| Maestro | £5 | Varies by bank | No Commission | Instant |
| PayPal | £5 | Varies by account | No Commission | Instant |
When making a deposit, users can select the 'Quick Deposit' option, choose a pre-set amount, or enter a custom deposit amount. After confirming the card or PayPal account details, clicking the 'Deposit' button will complete the process. Deposits are typically processed instantly, ensuring users can start playing and betting without delay.
One highlight of The Pools' deposit system is its acceptance of both debit cards and PayPal. This provides users with a degree of flexibility, allowing them to choose the method that suits them best. The minimum deposit amount of £5 is reasonable, accommodating casual betters and more serious players.
However, it's essential to note that the maximum deposit amount varies depending on the bank or PayPal account. It's recommended that users check with their bank or PayPal to be aware of any potential deposit limits.
Here at The Pools, we're deeply committed to ensuring our players have the best possible experience when they game with us. We recognise that in today's fast-paced digital age, convenience is paramount. Payment options, in particular, play a pivotal role in shaping a player's experience. We're living in a time where financial technology is evolving at an unprecedented rate, and the array of payment methods available to consumers has expanded dramatically. From digital wallets to Pay by Phone, the landscape of financial transactions is shifting, and we're keenly aware of this evolution.

Our team is constantly monitoring and evaluating the latest trends in payment methods, ensuring we're not just keeping pace with the industry but aiming to be at its forefront. We understand that our players come from diverse backgrounds and have varied preferences regarding how they manage their finances. Some prefer the traditional methods they've used for years, while others are eager to embrace the latest digital solutions. We aim to cater to this wide spectrum of needs, ensuring every player feels their preferences are acknowledged and catered for.

In light of this, I'm pleased to share that we are actively exploring a range of new payment options to introduce to The Pools platform. While I can't divulge all the specifics at this juncture, I assure our players that these considerations are being made with their convenience and security in mind. We're engaging with multiple payment providers, assessing the feasibility, security, and user-friendliness of each potential addition. We aim to roll out these new options in a phased manner, ensuring each one integrates seamlessly with our platform and meets the high standards our players have come to expect from The Pools.

Stay tuned for more updates, and as always, thank you for choosing The Pools.

Lee Pinnington, Marketing Director at The Pools
The Pools Withdrawal Methogs Review
The Pools offer an uncomplicated and safe withdrawal procedure that ensures players can access their winnings effortlessly. The platform understands the importance of providing convenient withdrawal methods and has implemented measures to maintain the highest levels of security and integrity.
Here's a detailed breakdown of the withdrawal methods available:
| Withdrawal Method | Min Withdrawal | Max Withdrawal | Commission | Withdrawal Speed <t/h> |
| --- | --- | --- | --- | --- |
| Debit Cards | £10 | Varies by bank | No Commission | 2 – 5 working days |
| PayPal | £10 | Varies by account | No Commission | 2 – 5 working days |
To proceed with a withdrawal, players must have a card or a PayPal account registered to their The Pools account. New users making a withdrawal for the first time are required to deposit a minimum of £5 to validate their card. Following validation and receipt of the deposit, users can select the 'Withdraw' option, input the amount they wish to withdraw, and click the 'Withdrawal' button to complete the process.
Withdrawals are typically processed within 2 to 5 working days from the date of request, providing an acceptable turnaround time for users to access their winnings.
The minimum withdrawal amount of £10 is a standard in the industry, and the absence of commission on withdrawals is a welcome feature. However, as with deposits, the maximum withdrawal amount is subject to the terms and conditions of individual banks or PayPal accounts.
The Pools Casino ensures players can enjoy their winnings without unnecessary delay, making it a suitable choice for those seeking a best payout casino. Its well-established withdrawal system is not only dependable but also transparent, with no hidden fees to worry about.

Although one might wish for slightly faster processing times, the efficiency and simplicity of the process largely compensate for this minor limitation. Importantly, the absence of withdrawal commissions further enhances the appeal of this online casino, allowing players to retain the entirety of their winnings.

Considering these factors, I am confident in granting The Pools Casino a strong rating of 4 out of 5 for its payout system. It ensures a swift and straightforward withdrawal experience, making it a trustworthy and appealing option for both new players and experienced gamblers.

Jamie Wall, Casino Analyst
The Pools: A Symbol of Trust in Player Securit
The Football Pools Limited, commonly known as The Pools, represents one of the most recognized names in the gaming industry, particularly in the UK. Its strong commitment to licensing, security, and player protection ensures a safe and reliable environment for gamers.
Licensing
| Authority | License Details |
| --- | --- |
| Gambling Commission (Great Britain) | Licensed and regulated under account number 48272 |
Operating under the jurisdiction of the Gambling Commission in Great Britain, The Pools maintains compliance with all the required regulations, ensuring a legal and fair gaming environment.
Data Security and Player Protection
The Pools assures that it abides by stringent data protection policies. In the event of data transfer or storage in countries outside the EEA, The Pools guarantees that necessary safeguards are implemented in compliance with applicable laws. Players are accorded certain rights regarding their personal information and can reach out to the UK's Information Commissioner's Office (ICO) in case of any concern about data processing.
Responsible Gaming and Support
At The Pools, responsible gaming is of utmost importance. The company's customer service team is trained in addressing problem gambling issues and assists players in maintaining control over their gambling behaviours. The Pools is committed to preventing underage gambling and employs several tools to verify the age of its players. It provides links to filtering software like Net Nanny and CYBERsitter for parents and guardians wishing to restrict their children's internet access.
The Pools offer features like Deposit Limits, Spend Limits, Reality Check, and Account History to help players keep track of their gaming behaviours. It also provides the option for players to take short breaks (Time Out) or long breaks (Self-Exclusion) from the platform. Additionally, it guides its players to various resources for help in case of problem gambling.
| Responsible Gaming Features | Description |
| --- | --- |
| Deposit Limits & Spend Limits | Helps players control their gambling expenditure |
| Reality Check | Reminds players about the time spent on the platform |
| Account History | Provides a record of the player's gambling history |
| Time Out | Short breaks from the platform |
| Self-Exclusion | Long breaks from the platform |
Given their commendable efforts, I assign The Pools a 5 out of 5 rating. The Pools has earned its esteemed reputation in the digital gambling domain through rigorous licensing, solid data security, and a passion for fostering responsible gambling.

Jamie Wall, Casino Analyst
Engaging with The Pools requires a grasp of its governing rules. Let's demystify the key terms for a seamless gaming experience tailored for the discerning Briton.
All rights to copyrights and trademarks are vested with The Pools or associated licensors.
The platform allows material usage strictly for personal and non-commercial endeavours.
Users, by participating, agree to uphold local regulations, confirm they are 18 years or older, and assume responsibility for their gaming outcomes.
Age and identity verifications are within the purview of The Pools.
Liability constraints apply to The Pools; seamless, uninterrupted service isn't guaranteed.
In the event of a terms breach, users are accountable for any resultant damages to The Pools.
Under specific scenarios, The Pools holds the discretion to modify, suspend, or conclude Player Accounts.
It's vital to acknowledge inherent risks when gambling via digital channels.
Temporary service halts, for reasons like maintenance, are possible.
Fraudulent undertakings, encompassing payment fraud or money laundering, face rigorous actions from The Pools, including potential account termination.
Grasping these stipulations ensures not only a secure engagement with The Pools but also an enriching and streamlined gaming journey. So, while the intricacies might seem daunting, they're your ticket to a rewarding experience. Wishing you a splendid gaming adventure!
The Pools on Mobile: Seamless Betting Anytime, Anywhere
For keen bettors in the UK, the essence of online gambling often hinges on the quality of the mobile experience. At The Pools, the adept mobile interface ensures players can indulge in their favoured sports, irrespective of the device in hand.
| Platform | Compatibility | App Availability | Browser Support |
| --- | --- | --- | --- |
| iOS | Fully Compatible | Not available | Safari, Chrome, Firefox |
| Android | Fully Compatible | Not available | Chrome, Firefox, Samsung Internet |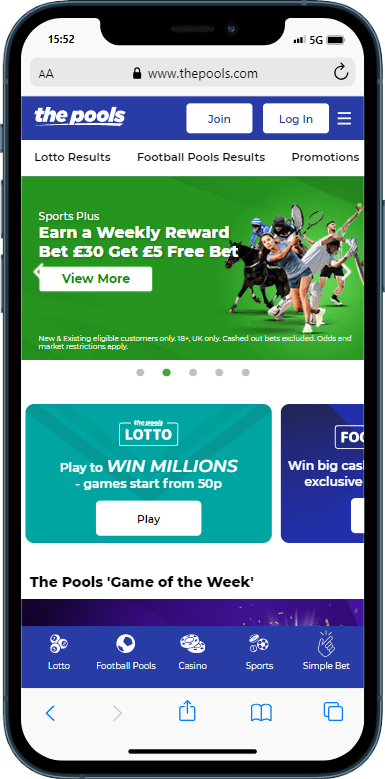 Despite forgoing dedicated apps for iOS and Android – a conscious choice due to platform constraints – The Pools has masterfully harnessed the capabilities of a mobile-responsive website. Whether you're on an iOS or Android device, the entirety of The Pools' offerings awaits, accessible via your mobile browser.
Mirroring its desktop version, the mobile casino site of The Pools boasts all the features one would expect. It's a cinch whether it's opening an account, confirming one's identity, making a deposit, or diving into the betting arena. Registering is fuss-free, demanding only the crucial details and requisite verification, all in keeping with British gambling norms.
Look at Over 1000 Casino Games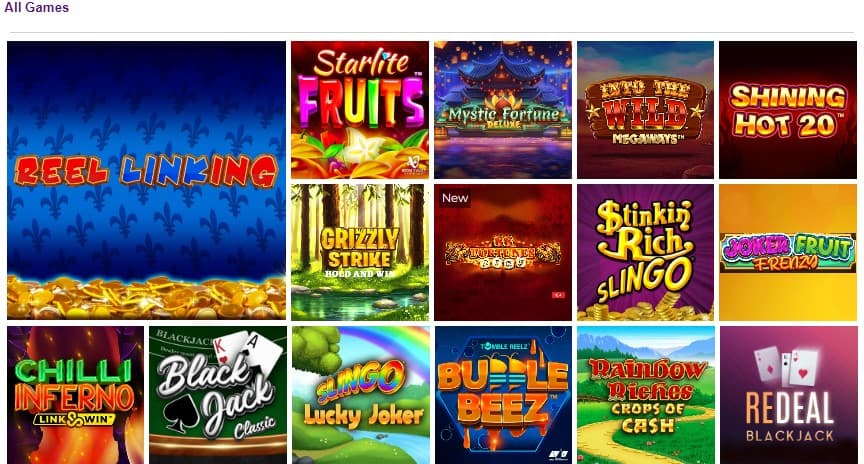 The Pools offers an expansive range of over 1300 games, promising a thrilling experience for every type of player. With various games stretching across various categories, like slots, live casino games, and Slingo, it's a one-stop gaming hub for the discerning online gambler.
The following table provides a brief overview of the types of games and the popular choices in each category:
| Game Type | Number of Games | Most Popular Game |
| --- | --- | --- |
| Slots | 930+ | Big Bass Splash |
| Live Casino Games | 15 | Live Roulette |
| Slingo | 46 | Slingo Money Train |
The Pools Casino Slots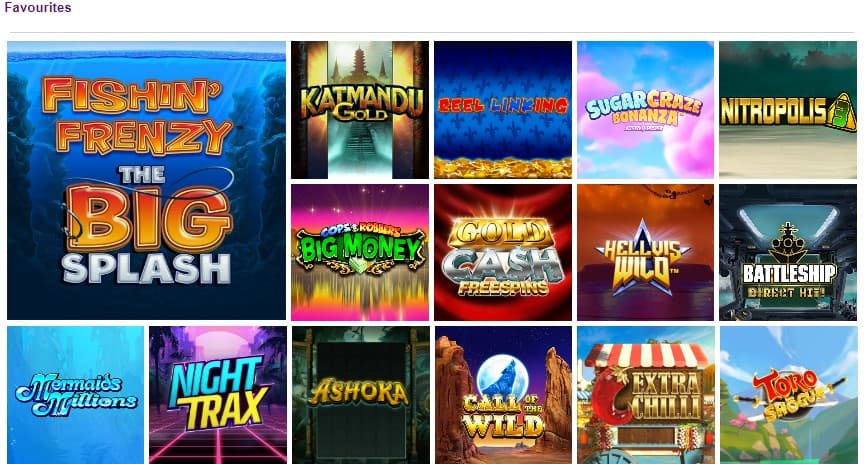 Here's a table featuring some of the Highest RTP slots:
| Game Name | Developer | % RTP |
| --- | --- | --- |
| The Goonies | Big Time Gaming | 96.0% |
| 1 Million Megaways BC | Inspired | 96.2% |
| Lil Devil | Realistic Games | 96.3% |
| Immortal Romance | Realistic Games | 96.4% |
The Pools Live Casino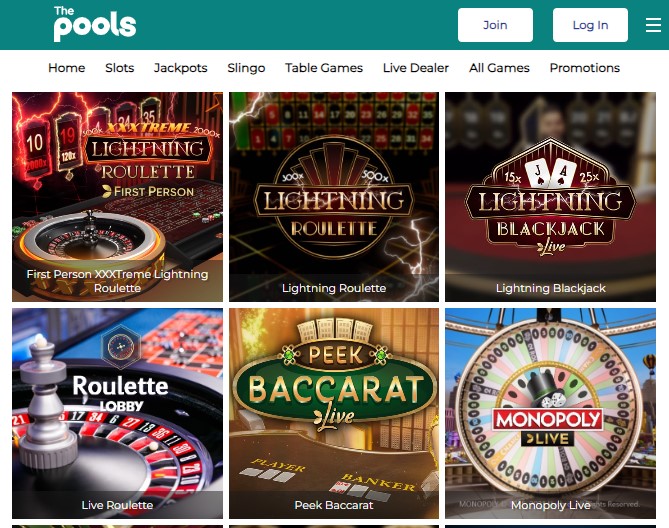 The Pools ensures you never miss out on the pulsating excitement of an authentic casino experience, regardless of where you are. Their live casino section features 15 immersive games with professional dealers, high-definition streaming, and interactive chat options. Experience the exhilaration of a bustling casino right from your couch.
This online gambling site's live studio game suppliers include Evolution Gaming, Microgaming, and Pragmatic Play.
Live Roulette
These games are crafted with precision to recreate the atmosphere of a high-end UK casino with live roulette, guaranteeing you're given an engaging, top-tier betting experience.
| Live Roulette Game | Game Description |
| --- | --- |
| Lightning Roulette | This riveting variant of the traditional roulette combines the thrill of RNG gameplay and Lucky Numbers, resulting in an energizing, high-payout experience. |
| American Roulette | Embrace a higher degree of excitement with the additional '00' pocket. American Roulette is designed for thrill-seekers who enjoy an elevated level of challenge in their gaming endeavors. |
Live Blackjack
Delve into unique interpretations of this universally adored card game. Test your strategy against a live dealer, ensuring not just a game but a riveting experience reminiscent of a brick-and-mortar casino.
| Live Blackjack Game | Game Description |
| --- | --- |
| Classic Live Blackjack | Engage with a live dealer, ensuring an authentic and exhilarating game. |
| Infinite Blackjack | Eliminate waiting with Infinite Blackjack. A seat is always available, guaranteeing non-stop excitement. |
| Blackjack Silver | Tailored for the ambitious, this version offers lavish gameplay with elevated betting limits, encouraging players to aim high. |
Live Baccarat
With two enthralling versions, The Pools beckons you to channel your inner James Bond. Experience the thrill and luxury live Baccarat is renowned for. Each game version offers a distinct take on this classic, ensuring an online gaming experience that seamlessly blends risk, reward, and sophistication.
| Live Baccarat Game | Game Description |
| --- | --- |
| Lightning Baccarat | Baccarat, but with an electrifying edge. Lightning multipliers might amplify your gains. |
| Peek Baccarat | Introduce a dash of mystery with the Peek feature, letting players glimpse the cards and heightening the game's suspense. |
Slingo Selection at The Pools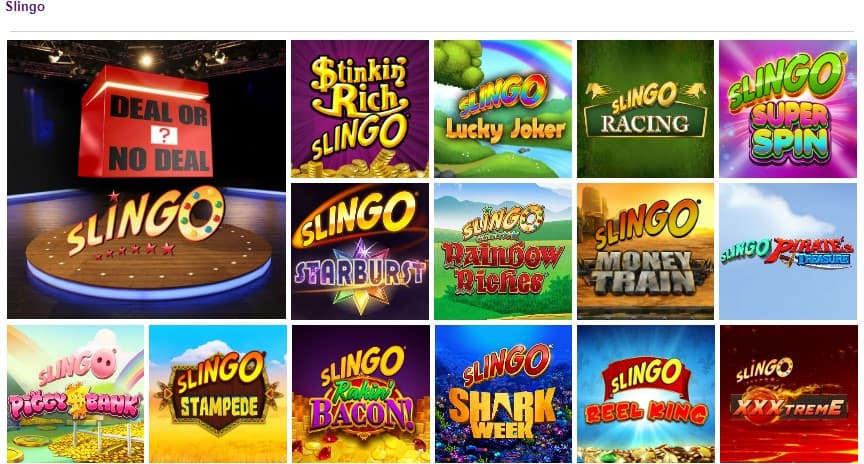 Boasting a collection of over 46 Slingo machines, The Pools promises a captivating gaming journey. Delve into some of the standout Slingo titles:
| Game Name | Description |
| --- | --- |
| Slingo Money Train | A thrilling ride that combines classic Slingo with the excitement of a money train. Win big with multipliers and bonus features! |
| Slingo Lightning | Experience the electrifying gameplay with Slingo Lightning. Quick, exciting, and full of surprises, this game is a must-try! |
| Book of Slingo | Dive into the pages of the Book of Slingo and uncover ancient treasures. A unique blend of mystery and excitement awaits you! |
The Pools Online Bookmaker
The Pools is a premier online bookmaker, offering many betting options spanning a vast array of sports. From mainstream sports like Football and Horse Racing to niche pursuits like eSports and Australian Rules, their comprehensive list ensures every sports enthusiast finds their match.
Both newcomers and seasoned punters can benefit from The Pools' "Racing Offers" promotion, tailored for horse racing fans. UK residents aged 18 and above must place a minimum £5 bet on selected horse races to partake. The specific conditions, updated daily, might grant participants a free bet. For example, a £20 stake on a designated race could yield a free bet if a particular horse, say Cheeky Blimey, triumphs by over a length. Some races have no criteria, awarding a free bet merely for participation.
Free bets are credited promptly post-race and remain valid for 7 days. The free bet's value isn't part of the returns. Certain restrictions apply, and this promotion stands independently of other offers.
At Gamblizard, we love celebrating the success stories of players. Here's a glimpse into some of the recent winners from ThePools.com:
Rachel from Huddersfield Strikes Gold
Rachel from Huddersfield didn't just try her luck; she struck gold! Winning the Lucky Clover Lotto's top prize, Rachel is now a whopping £1 Million richer. Reflecting on her monumental win, Rachel expressed her astonishment and joy, proving that dreams can come true.
Essex's Comeback Queen: Mrs Anne Conroy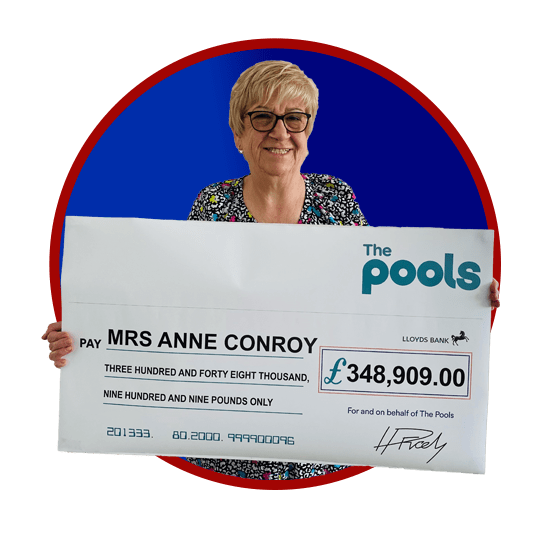 Mrs Anne Conroy, an Essex grandmother, embodies the spirit of a comeback queen. After taking a brief hiatus from The Pools due to the rising cost of living, Anne returned to the game on an invitation. This decision turned out to be fortuitous, as she clinched the Classic Pools rollover, taking home a staggering £348,909. Anne's story is a testament to the unpredictability and thrill of the game.
Paul Wright from Surrey: A Series of Wins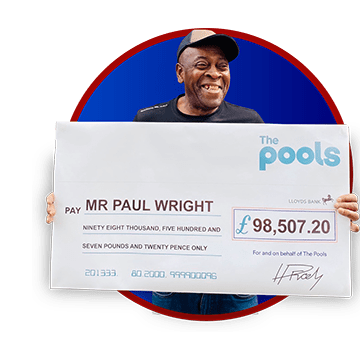 Paul Wright's tale is one of consistent luck. Hailing from Surrey, Paul recently accumulated winnings of £98,507.20, with significant amounts coming from both the Classic Pools and Premier 12. Despite winning £2,500 a few months prior, Paul was taken aback by his recent windfall. He praised The Pools' revamped website and games, adding that he never anticipated such a massive win. Gratefully, he remarked, "God must be looking after me."