In 2010, the foundation stones of Wazdan were laid, and they quickly got their MGA license. By 2013, sensing the changing winds, they went for a fresh rebranding. The hard work continued, and in 2015, they brought 50 new games to life using the latest HTML5 technology. Their commitment to excellence was further stamped when they secured the UKGC license in 2017.
But they didn't stop there, 2018 saw them introducing 'volatility levels' to their games. This was a game-changer, making the play more interesting. By this time, their game count had touched a whopping 100. From such a humble beginning to a giant in the gaming scene, the game provider's journey is nothing short of inspiring. Wazdan celebrates its past, but is ever eager to shape the future of iGaming.
The online slots provider boasts top-notch software. You'll find anything exciting, from slots to classic table games. The gaming company's standout features, like unique volatility levels, set them apart in the iGaming realm. UK players are guaranteed an unmatched experience.
The Most Prominent Wazdan Features
Wazdan is a brand redefining the online casino landscape. So, what makes them special?
Language Availability for Global Players
Wazdan understands the global appeal of casino games. They've catered to this by incorporating multiple languages into their software. This inclusivity ensures that players, no matter where they hail from, can enjoy a personalised experience.
Technical Optimisation for Smooth Playing Experience
Have you ever been in the middle of a winning streak and faced a game lag? With Wazdan online slot games, such concerns are in the past. Their games run seamlessly on desktop or mobile, ensuring players have a frustration-free experience.
Safety first! Wazdan proudly showcases its UKGC license, a testament to its commitment to fair play and transparency. This license reassures UK players at top Wazdan online casinos that each spin and bet is backed by integrity.
Variety is the spice of life! Wazdan believes in keeping their game roster fresh. Their regular game releases ensure players have something new and exciting to look forward to, making them a top pick in Wazdan online casinos.
Best 10 Wazdan Slots Analysis
Entering the realm of online slots, Wazdan shines brightly. With a huge array of games under their belt, they've perfected the art of engaging themes and gripping game mechanics. It doesn't matter whether you're a fan of mystical quests or futuristic adventures. This slot game provider has got you covered! Let's find out some of the best Wazdan slots and see what makes them stand out!
9 Coins™
With an RTP of 96.06%, Wazdan ensures consistent rewards and multiple paylines that allow players to cash out massively with the 9 Coins™ slot. Its setting is all about the shimmering coins and their enticing sounds. The reels have an extraordinary look, revealing characters that come alive with every spin, all against the backdrop of an upbeat, toe-tapping soundtrack that keeps you in the groove.
What truly sets 9 Coins™ apart are its symbols. A combination of these can catapult your winnings, especially with the Wilds and Free Spins sprinkled generously. The Hold the Jackpot™ bonus round is where the performance happens, with its multitude of Bonus symbols, including the innovative Cash Infinity™.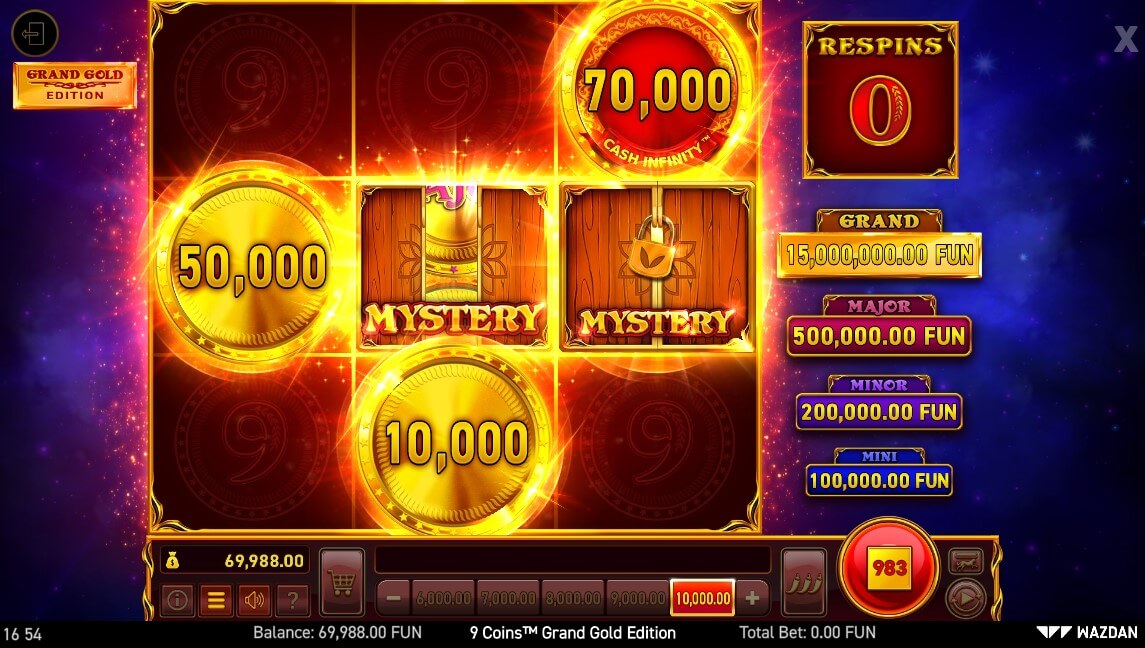 This unique feature enhances the gameplay and makes entry into the Bonus Game a breeze. And for those feeling particularly lucky, there's a chance to bag prizes up to a whopping 500x their bet!
Still thirsty for more action? See the Gamble Feature, and if luck is on your side, you could double your wins up to seven times in succession. Or use the Buy Feature to hop directly to the Bonus Game. With three distinct Volatility Levels™, British players can tailor their gaming experience, balancing the frequency and value of their wins. In essence, 9 Coins™ is an exhilarating mix of innovative mechanics like Cash Infinity™, an immersive theme, and exceptional graphics, making it a must-try for every slot lover at a Wazdan casino.
9 Coins™ Extremely Light
The 9 Coins™ saga continues, and the latest addition, 9 Coins™ Extremely Light, offers slot boosters the beloved gameplay in a sleeker format. Packed with familiar features yet optimised for mobile devices, this version ensures hours of uninterrupted fun.
At its heart, this slot keeps the essence of 9 Coins™. Players can plunge into the immersive Hold the Jackpot™ bonus round, eager to align those special Cash Infinity™ symbols for boosted chances. The slot design? Simplified for clarity but retaining the charm. Even on smaller screens, the allure of the game remains.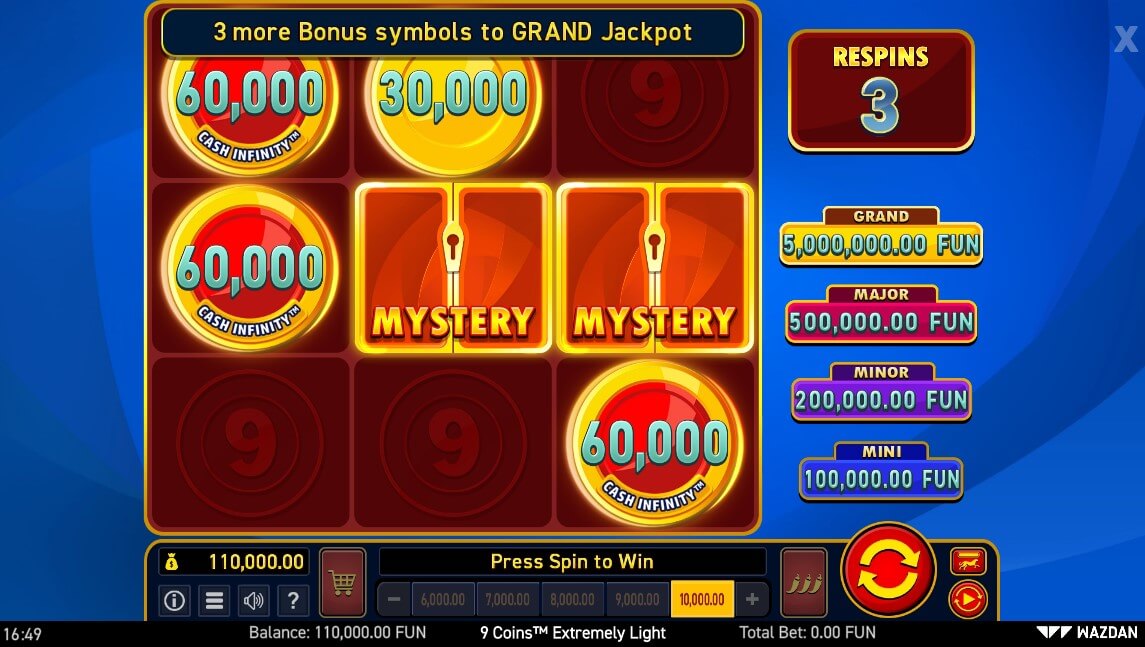 But there's more to cherish! Spin the reels and line up those symbols for incredible payouts. You can use the Wilds and Free Spins for more action. The Gamble Feature spices up the gameplay, letting the daring double their wins, potentially up to 7 times!
What sets this variant apart? Its light design ensures speedy loading and prolonged play on mobile devices. So, whether you're in a queue or on a bus, the excitement of aiming for the 500x bet Grand Jackpot is undisturbed. Also, the added bonus? It's gentler on your device's battery, letting players focus solely on those big wins. In the vast ocean of slots, 9 Coins™ Extremely Light stands out. It combines the original's brilliance with mobile-optimised ease. For casinos, this game is a sure shot at holding players' attention. Why? They can chase those jackpots anytime, anywhere, without any glitches.
12 Coins™
In the glittering world of slots, Wazdan's 12 Coins™ shines uniquely. Evolving from its well-known predecessor, 9 Coins™, this game takes excitement to new heights, boasting an impressive 12-reel layout, an upgrade from the traditional 9 reels. But it's not just about the numbers; with a high volatility and a 96.13% RTP, every spin promises thrill and potential rewards.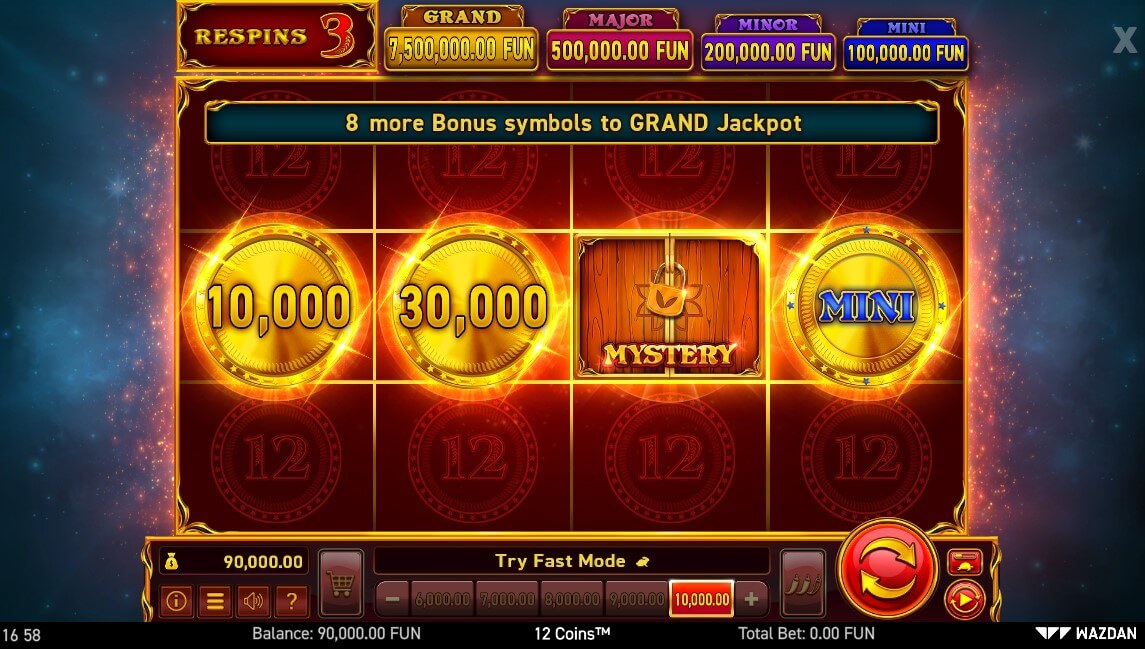 Imagine the shimmer of the game symbols merging seamlessly with rhythmic background beats. This game is an orchestra of visuals and sounds that captivate from the first spin. And the potential? Lucky players can potentially win a whopping 750x maximum win! However, the most intriguing aspect of Coins™ is its features. You'll get your heart racing with the Hold the Jackpot™ bonus round, and when coupled with the adored Cash Infinity™ mechanic, it promises exciting gameplay.
Wilds, Free Spins, and the innovative 12-reel design ensure every moment is unpredictable and engaging. And for those who love to personalise their play, Wazdan delivers options like the Buy Feature and adjustable Volatility Levels™. In a nutshell, 12 Coins™ is an adrenaline-packed adventure. It is a game that doesn't just promise fun but delivers an unforgettable experience.
16 Coins™
Dazzling in the universe of online slots is 16 Coins™, where players unearth treasures beyond imagination. This game isn't just about its radiant visuals; it's a beacon of brilliant rewards and thrill-packed spins in the Wazdan universe. With a rock-solid RTP of 96.18%, players know they're in for a fair game. For those who dare to dream big, a max win of 1000x their bet gleams on the horizon, and with its high volatility, massive rewards could be just a spin away.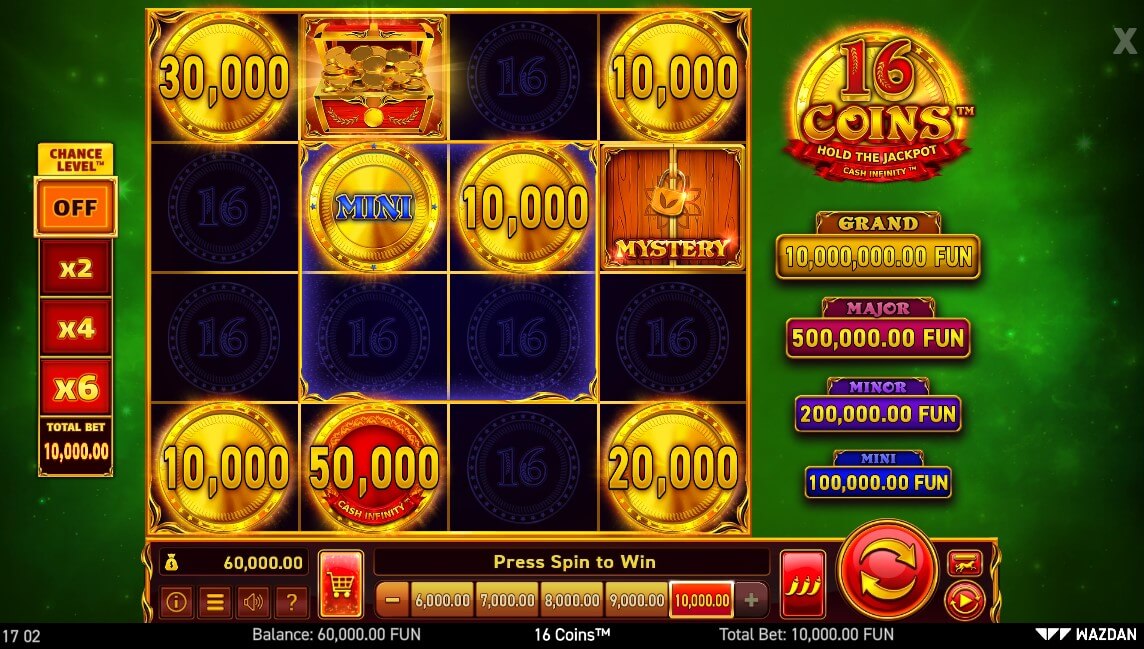 Every twirl of the reels immerses players deeper. The shimmering coins, snazzy animations, and enchanting soundscapes set the stage while mysterious Wilds and alluring Free Spins lurk, ready to amplify the excitement.
As if that isn't enough, 16 Coins™ houses groundbreaking features like Chance Level™ and Cash Infinity™, promising unpredictable yet rewarding twists. And the crown jewel? The Hold the Jackpot™ bonus round, where fortunes can shift in the blink of an eye, leading to the grandeur of the 1000x Grand Jackpot. The game offers customisation with tools like Volatility Levels™ and the Buy Feature to cater to every player's style. Now, everyone can tailor their adventure.
Hot Slot™: 777 Cash Out
Craving some retro slot fun with a modern twist? Hot Slot™: 777 Cash Out, may be your answer. This sizzling game is a fusion of traditional charm and today's hottest features, making it a must-play for slot lovers.
Boasting 5 reels and 20 betways, British players have ample chances to strike it rich. And with an RTP of 96.12%, the odds are quite favourable! Dreaming of a big win? The grand payout is a whopping 1,500x your bet. With its unique Volatility Levels™, players can dial up or down the excitement to their liking.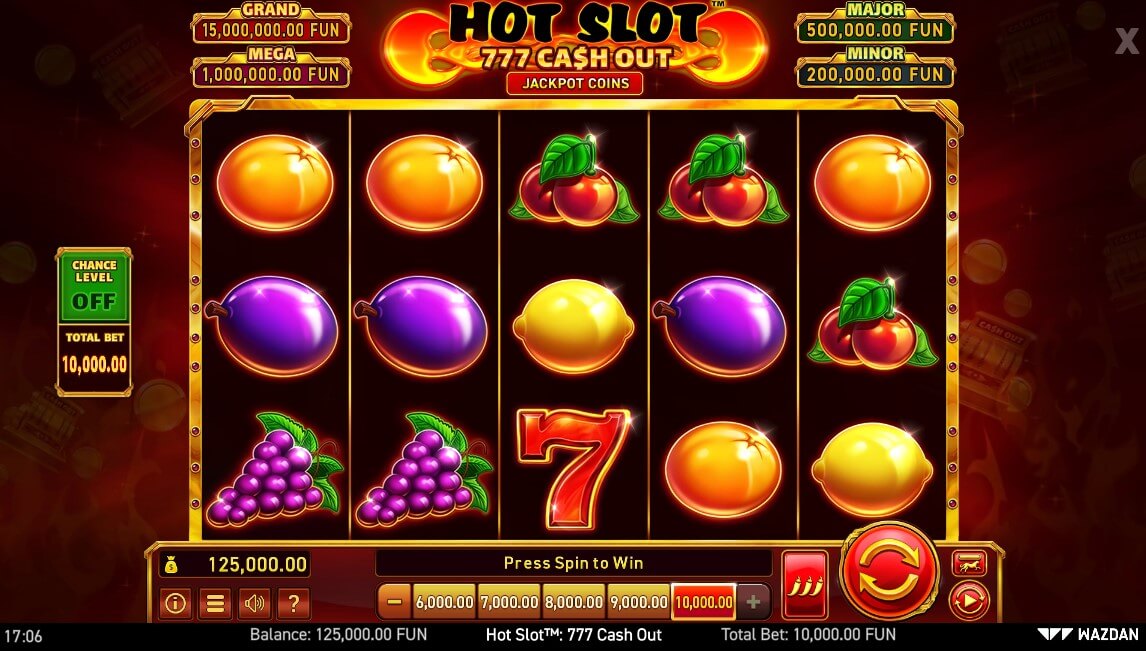 Hot Slot™: 777 Cash Out is the latest gem in the crown of the world-renowned Hot Slot™ series. It's a nod to classic land-based slots adorned with juicy fruits ready to spin and win. But it's not all old-school. The innovative Cash Out symbol is the game-changer, bringing players closer than ever to those sweet rewards. Wilds? Check. Free Spins? You bet. But what will truly get players' pulse racing is the Chance Level feature, where big wins become even more achievable. And for those seeking the thrill of victory, the grand jackpot of 1500x the player's bet awaits. From its adjustable Volatility Levels™ to the new Cash Out symbol, Hot Slot™: 777 Cash Out is the future of classic slot gaming!
Hot Slot™: Great Book of Magic
This slot has the perfect blend of classic gameplay and mystical allure. Presented on 5 reels with 10 betways, it's a game both seasoned slot lovers and newbies adore. And with a generous RTP of 96.19%, it's pure magic for those after hefty rewards.
The game unfolds like a fantasy book, inviting players to a kingdom where symbols whirl around, tempting with payoffs. Imagine wizards, mystical creatures, and enchanting music. As you spin, keep an eye out for the game's special symbols. Landing the right combination could lead to a spellbinding win of up to 6000x your bet!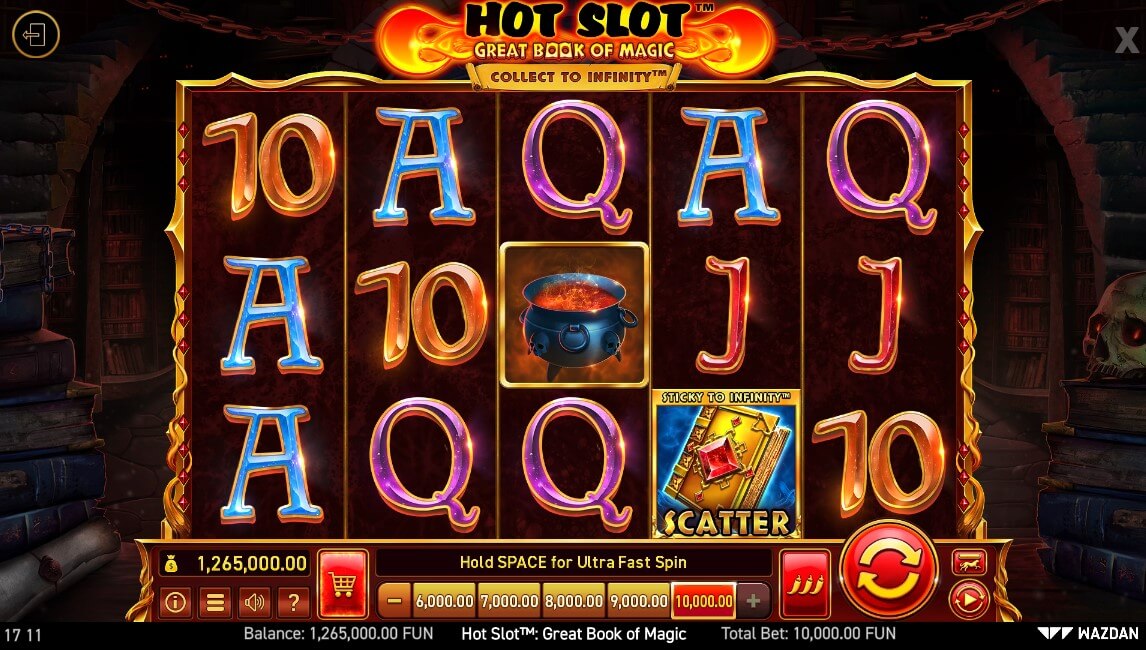 But that's not all. Hot Slot™: Great Book of Magic is peppered with thrilling features. Wilds to transform your fate, Free Spins to prolong the enchantment, and special symbols to unlock secret rewards. For those who love pushing the boundaries, the Volatility Levels™ lets you choose the intensity of your game.
One feature that stands out is the Triple Extreme Level of the Buy Feature. This adds a fresh layer of excitement, allowing British players to buy their way into high-reward scenarios. Combined with proven hits like Collect to Infinity™ and Sticky to Infinity™, it's clear that this slot packs both the charm and the challenge. In short, Hot Slot™: Great Book of Magic is a challenge, and a chance at magical winnings.
Mighty Wild™: Panther
This slot game is like going on a wild journey. It takes you deep into a green world full of surprises and treasures. Wazdan has crafted this game with 15 unique spinning parts. This isn't like other games. Every time you play, it feels fresh and new. Plus, with a 96.15% RTP, you'll likely get prizes quite often as you explore this rich, green place.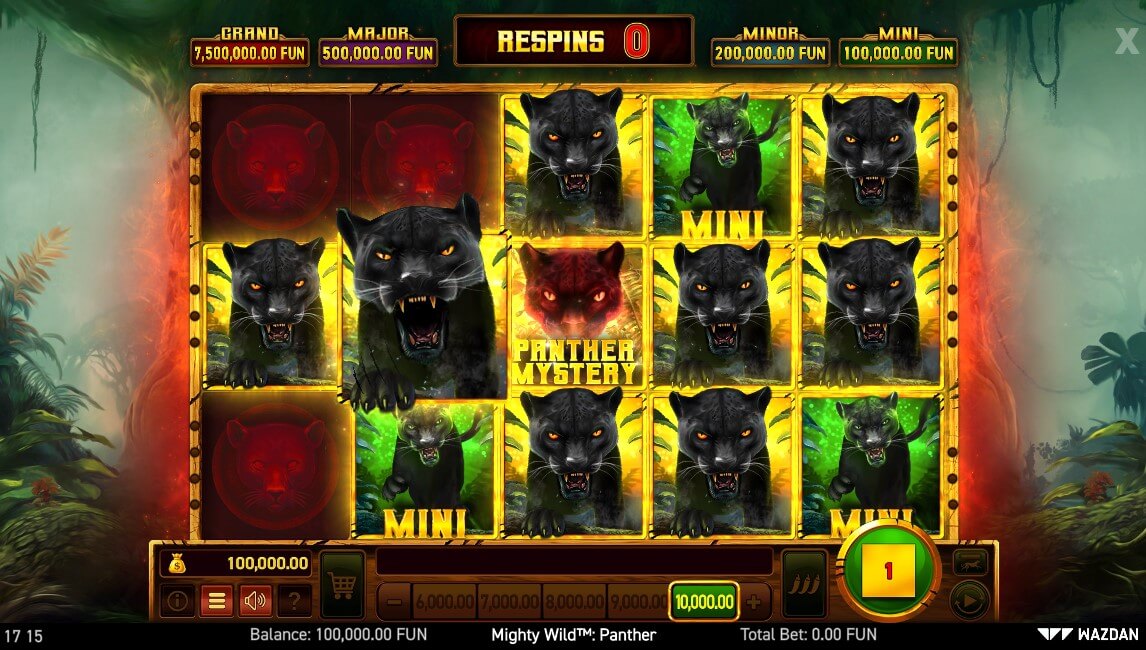 It's like stepping into a living forest. You can hear the rustling of leaves and distant animal calls. On your screen, there are bright and colourful images of jungle creatures. The big cat, known as the panther, is the star here. Its shining eyes and smooth movements are shown in really good graphics that make you feel like it's right there.
As one of the Wazdan new slots, the Mighty Wild™: Panther game has many fun features. One of them is the Hold the Jackpot™ part. It keeps you on the edge of your seat, hoping to hit that big win. If luck is on your side, you could win up to 750 times the money you played with! And there's more. Special Wild Rampage™ rounds pop up and can give you even bigger prizes. And if you want a special touch? There's the Chance Level™ feature. It lets you pick and change your game style. You decide how you want to play. And with the Volatility Levels™, you can choose how risky you want the game to be, balancing risk and reward. So, pick the slot and enjoy this jungle escapade!
Mystery Kingdom™: Mystery Bells
As one of the Wazdan popular slots, Mystery Bells is a fun and exciting voyage into a land of secrets. We're pretty sure you'll love its surprising twists and turns. With an RTP of 96.13%, mouth-watering prizes are often available for you to grab. As one of the best Wazdan games, its detailed and friendly design makes it a joy to play for hours.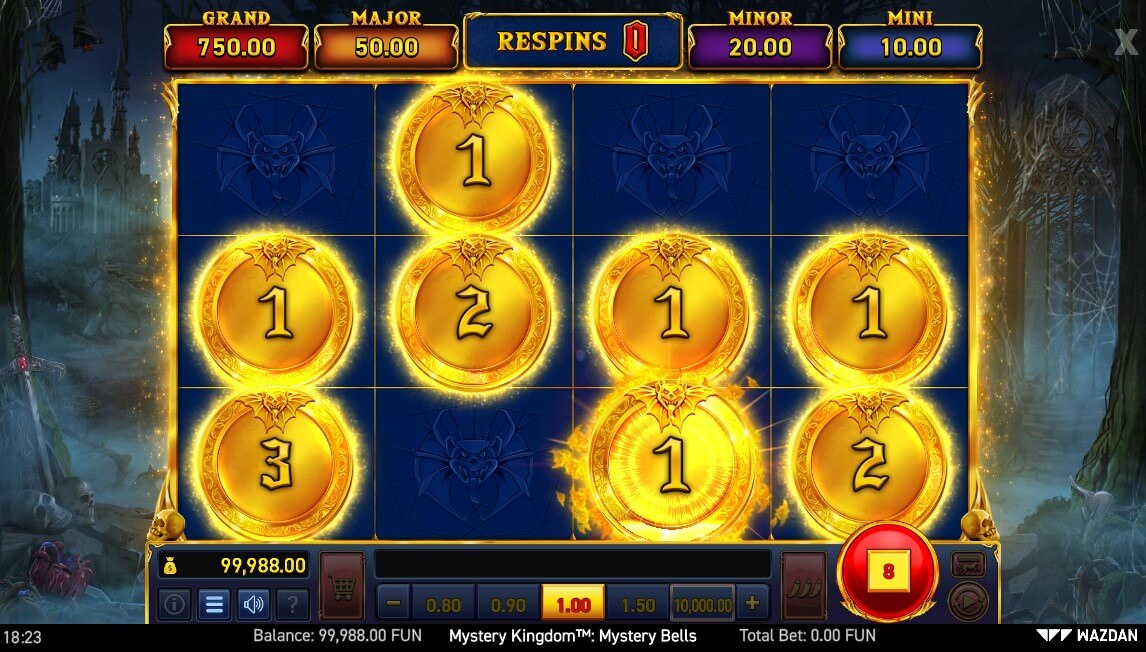 Simply imagine a kingdom hidden in thick fog. This is where this game takes place. It's a magical place that feels both inviting and mysterious. The distant ring of eerie bells and soft, haunting tunes play as you play, adding to the game's charm. The graphics are clear and tell a fun story of adventure. Every time the bell rings, it's a hint of a hidden treasure nearby. And if luck's on your side, you could even land the mega prize – a whopping 750 times your bet!
Power of Gods™: Hades
Experience a world where myth meets slots in Power of Gods™: Hades at any of the top Wazdan casinos. Players get to take a thrilling journey into Hades' realm, where fortunes and fates intertwine. Housed within a framework of 5 reels and an impressive 243 ways to win, this game promises excitement at every turn. A high RTP of 96.14% ensures players will be rewarded for their bravery in taking on the underworld. And for those seeking the big win? A staggering 5000x bet awaits as the Max Win!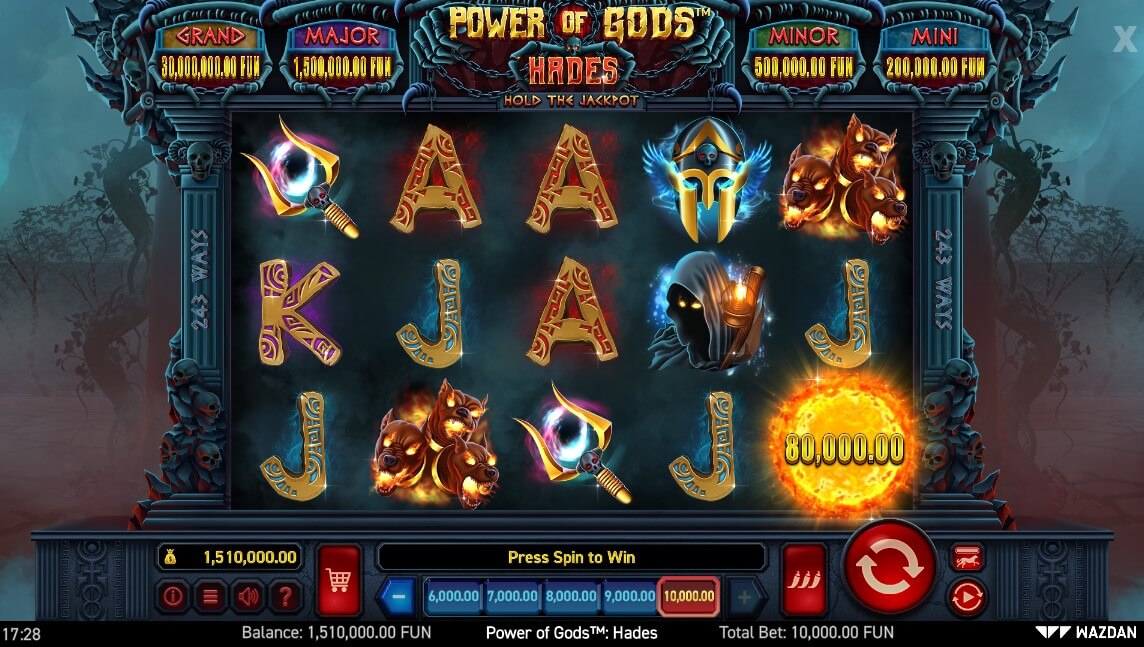 Every spin unveils a rich tapestry of symbols. From the haunting images of the underworld to the iconic Greek mythology characters, each symbol has a tale to tell. And with a backdrop that reflects the fiery abyss of Hades' domain, coupled with haunting music, players are in for an otherworldly experience.
Hades, the brooding God of the Dead, isn't just a namesake. He plays a pivotal role in the game. He guards the gates to big rewards and is the key to unlocking features that amplify wins. The game's Wilds are crafty, boosting chances of striking gold. But the real game-changer? The Free Spins feature! This is where players can truly amass wealth worthy of a god. Yet, the true test lies in the Hold the Jackpot™ bonus round. Here, the river Styx comes alive, challenging players to cross it and win the favour of Hades.
Power of Sun™: Svarog
Step into the glowing forge of the Slavic God of Fire with Power of Sun™: Svarog! This exciting slot game offers players a chance to channel the light and warmth of the sun, forging their path to epic wins.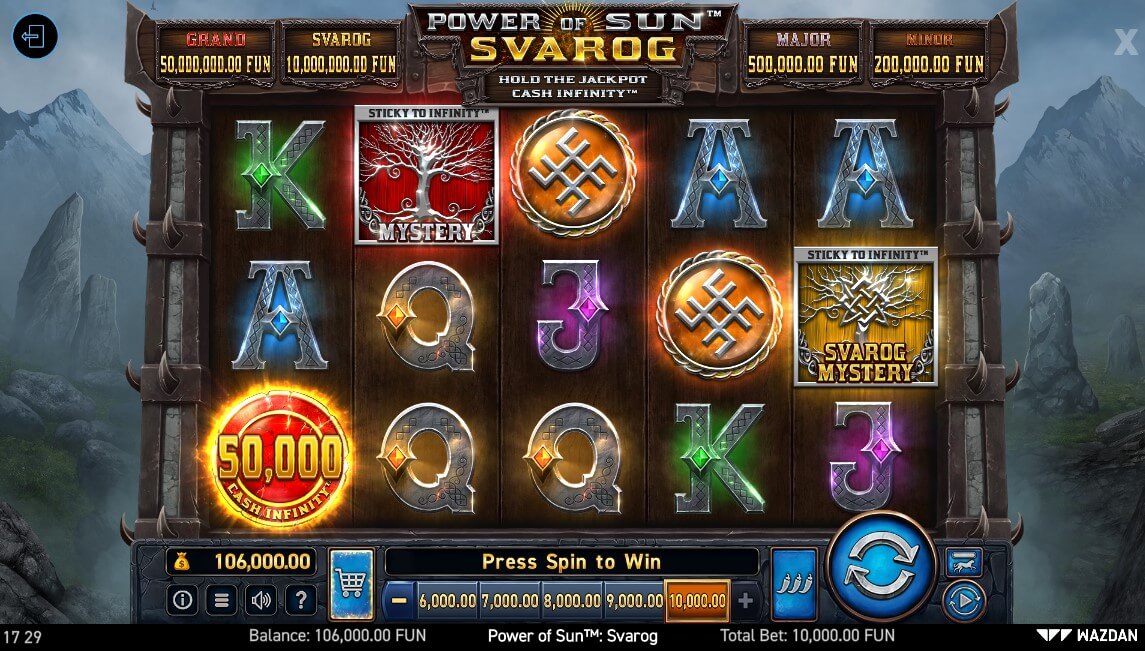 Featuring a fiery 5 reels and a whopping 243 ways to win, the game promises more than just sparks. With an RTP of 96.15%, players can expect steady rewards as they play, with the potential for a blazing Max Win of 5000x their bet! The setting is a molten forge, where Svarog, the main character, crafts and shapes the destiny of all who dare to play. The ambiance is intensified with the rhythmic beats of hammers and the hiss of quenched metal, creating a soundtrack that perfectly complements this high-volatility adventure. Symbols turn on the screen, telling stories from Slavic myths. There are fire hammers, anvils, and sun signs. Each symbol can lead players to big wins. But what's really exciting are the special game features. Wild symbols join other symbols to make wins. Free Spins give extra chances to play and win. After all, try the Hold the Jackpot™ round for a big prize!
The game Power of Sun™: Svarog is fresh and exciting. It's the first in the Power of Sun™ series. It's got cool things like Cash Infinity™ and Sticky to Infinity™. These make the game fun and make players come back to play more. With Power of Sun™: Svarog, every player can harness the power of the sun and forge their own epic tale of fortune at any top Wazdan casino!
Wazdan Mobile Optimization
Playing games on the move is a big deal for casino fans. That's where Wazdan online casino shines bright. It doesn't matter what you use – a phone, tablet, or another gadget – Wazdan games are well-prepared for you. They're built to let players jump into fun slots anywhere, anytime. You don't have to wait. Just play!
And what's the secret behind Wazdan's smooth play? They use smart tech like HTML5. Also, the games run smoothly and load fast, thanks to other technologies they utilise. This tech makes the slots look and sound great, just like on a big computer at home.
We'll not forget to mention how Wazdan goes out of its way to satisfy mobile players. The gaming giant has done all the work to ensure their product works on any kind of device. So, if you're a UK player who enjoys playing on the go, the Wazdan software will make you smile.