The Most Popular ZeusPlay Slots
If you're seeking a good spin, ZeusPlay's got you covered. Their slot games are fantastic. Let's explore the heart of ZeusPlay's world and find out why they're a top pick for many UK players. ZeusPlay boasts a massive library of over 50 interesting slot games. That's a ton of choices: from ancient myths to fruit classics, they cover several themes. Every theme transports players to a different world.
But what makes Zeus Play slots stand out? First, their unique design. They pack each game with lively animations and clear graphics. Each time you play at a ZeusPlay casino, you're in for a visual treat. But it's not just about the looks. Their gameplay is user-friendly, making it easy even for newbies. Some slots come with special bonus rounds. Others have multipliers that can boost your winnings. And many games also offer free spins. This means more chances to play and win without spending more. Ready to find out which Zeus Play slot will become your next favourite? Let's keep rolling!
The Divine 12th
"The Divine 12th" is a fun game from ZeusPlay. For players who are lovers of online slots, we're pretty sure you'll have fun with this slot. Here, you have a 96% chance to hit a good win every time you play. With an 80% volatility game, you may not win often. However, when you do, you could hit something really huge. Also, with 6 columns and 4 rows, you have 30 chances to win each time you play.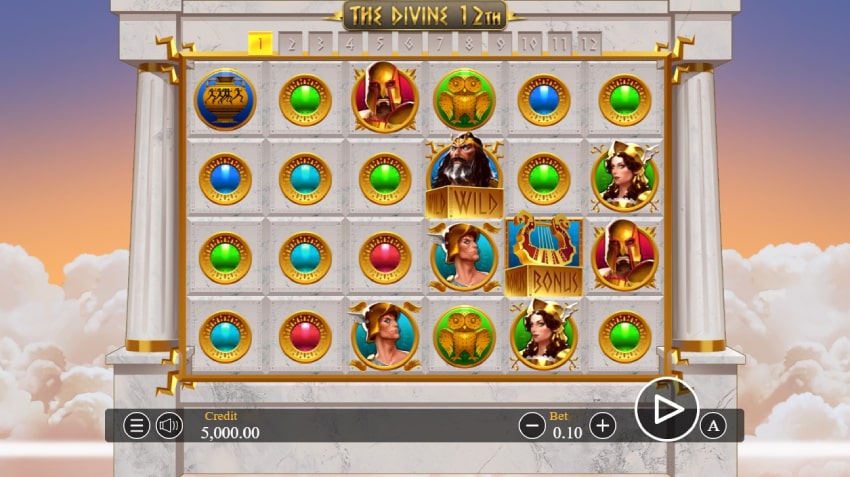 Furthermore, in terms of appearance, the background of the game looks like Mt. Olympus, home to the ancient Greek gods. You'll feel like Zeus himself is watching you play. The sound that comes from the slot game is calm, with harp music and soft wind. Sometimes, you might hear thunder, making the game more interesting. And here's a fun feature: you can get up to 6 wild spots on your game screen every 12 turns.
You may also be curious about the ZeusPlay game symbols. They appear like old Greek tools and sky symbols. One tip is to be on the lookout for the harp symbol; it's special. If you see 3 or 4 harps, you get 12 free plays. And these free plays can increase your reward. The wild symbols also help you win by lining up the right way. And those 6 wild spots appear every 12 turns and make the game even more fun. So, if you're ready to face the Greek gods and win big prizes, try "The Divine 12th".
The Emperor's Curse
This slot game stands as a compelling chapter within ZeusPlay's library. Possessing an RTP of 96% and leaning towards medium-high volatility of 80%, this video slot promises players good gameplay and substantial payouts. The game is structured around 5 reels and 3 rows and offers 20 fixed chances – or pay lines – for players to seek out their fortune on each spin.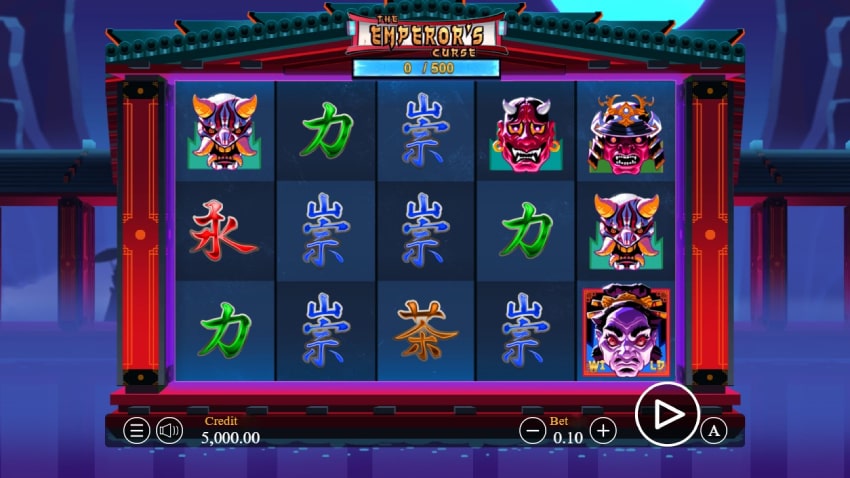 The setting of this Zeus slot transports players to an era of legends. The narrative unfolds around Kissijo Iakoujito Ronin of Cassouro Misakigou, the Great Shogun, and his tragic love for the enchanting Alita, Emperor Torijamma's spouse. The intrigue thickens on the fateful night of the Lonely Demons, where, in a haze of passion and deception, the Shogun commits the gravest sin: murdering the Emperor during a sacred ritual. The ambience is intensified with haunting melodies echoing in the background, adding depth to this horror love story.
As for the symbols and gameplay, players can expect a fusion of historical and mystical icons. The scatter symbol holds special importance as collecting these can launch bonus games. An Imperial counter diligently keeps track of these scatters, amplifying the game's suspense. For those with an appetite for big rewards, the slot teases with features like sticky wilds and random wilds. These wild symbols can change the tide of the game and increase winning possibilities. Win multipliers that have the potential to skyrocket wins up to a whopping x2000. Truly, "The Emperor's Curse" offers a gameplay as intense and riveting as its tale.
Diamond's Fortune
ZeusPlay has given us another great game called "Diamond's Fortune". If you're wondering about your winning chances, it has a solid 97% Return to Player (RTP). This means for every 100 coins played, on average, you'd get 97 coins back.
Like other ZeusPlay slots, the game's structure is simple. It has 5 columns (or reels) and 3 rows. Also, there are 20 set ways you can win money. Given its 80% high volatility, you can expect both regular small wins and the occasional big jackpot.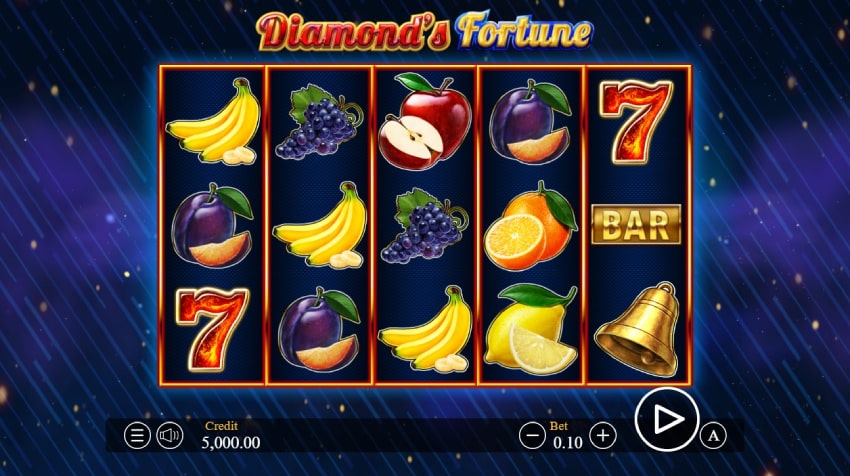 Now, about the game's feel. "Diamond's Fortune" is all about feeling rich and shiny. It celebrates diamonds, as its name suggests. But there's a fun twist. It brings in memories of old fruit slot games but with a fresh touch. So, while you're seeing diamonds sparkle, you'll also see familiar fruit symbols.
Furthermore, the game has lively, catchy music. It makes you feel like every time you press that spin button, you're joining a fun dance.
The best part is the symbols. You'll see both shiny diamonds and colourful fruits. But the best moment is when you can choose from one of the four bonus games. Each bonus game has its special perks. Some give you more free spins, and others give you bigger multipliers. This means every time you play "Diamond's Fortune", there's a chance for a big, shiny win waiting for you.
Don Mafioso
ZeusPlay offers a fun game: the "Don Mafioso" slot. This game offers a favourable 96% return rate, signalling a fair chance to win. It has a simple layout: 5 columns, 3 rows, and 20 specific ways to secure a win. Because of its 80% volatility, players can anticipate a mix of regular rewards and the occasional larger prize.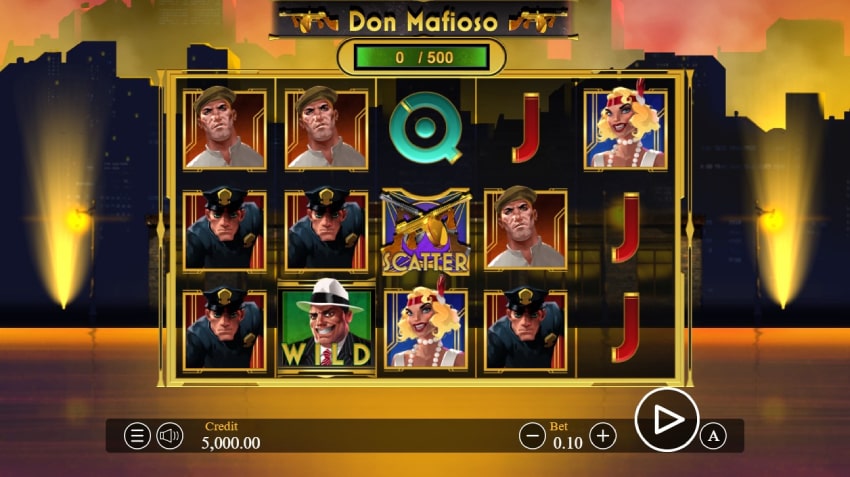 When you play the Zeus slot game, the setting and sound make you feel like a character in a classic mafia story. The symbols have been crafted to fit this setting perfectly. You'll see guns, overflowing money bags, and the main character, the mafia boss known as Don Mafioso. Among the symbols, the scatter stands out. When you land on these, they unlock special bonus rounds. These rounds give players extra opportunities to increase their rewards.
The game also showcases features called wilds. These symbols can stand in for others, raising the chances of a winning combination. Some of these wilds are termed 'sticky'. This means they stay put for several plays, helping you win multiple times. Others pop up without warning, adding to the fun. When combined with certain multipliers, these wilds can improve your winnings considerably. Some lucky players might even find their reward magnified by up to 2,000 times.
In essence, "Don Mafioso" isn't just another slot game. It's a trip into the intriguing world of the mafia, blending entertainment with the prospect of rich rewards.
Great Buffalo
This slot game offers you the opportunity to be a hunter in a large desert. This game provides a good opportunity to win, showing a strong 97% RTP. Unlike a lot of other games, "Great Buffalo" offers a unique layout with 6 columns and 4 rows, giving players a lot of ways to win. Yet, it's worth noting that the game's 80% volatility suggests that while the rewards can be significant, they may not happen instantly.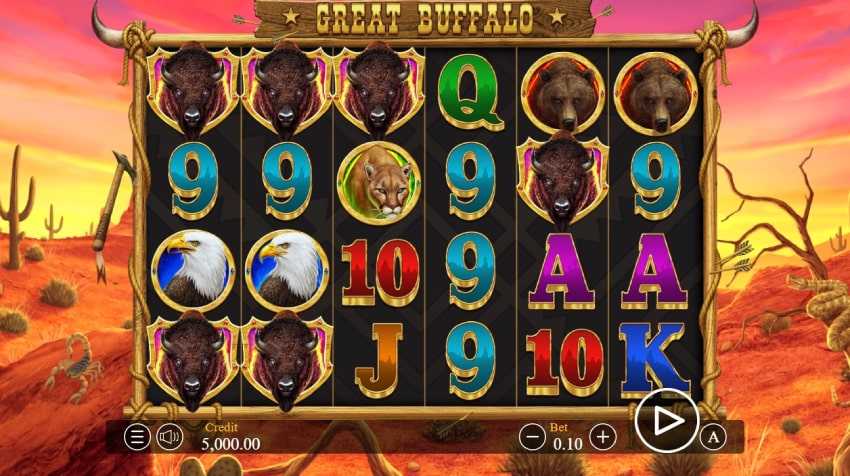 Picture a vast, sunlit desert. This is where "Great Buffalo" takes place, and it's the home of the powerful buffalo. When you start playing, you can feel the warm desert breeze and hear the sounds of nature. The background music of this slot game makes it even more enjoyable, making every spin one to remember.
The symbols used in this Zeus gaming capture the desert's spirit. They include elements of the wild, and among them, the scatter symbol is especially important. By gathering these symbols, you can unlock extra spins. These aren't your average spins, though. When you're in this special mode, wild symbols give your winnings an extra boost. They can multiply your prize by two, three, or even five times. This means that with each spin, there's a chance for a big surprise.
ZeusPlay Mobile Optimisation
People love playing games anytime, anywhere. ZeusPlay gets it. So, can you play their games on your phone or tablet? Yes, Zeus Play slot machines are made to work great on mobile devices. Android, iPhone, tablet – it doesn't matter. You don't need a computer to have fun.
If you're wondering what their secret is, ZeusPlay uses up-to-date tech, specifically HTML5. This tech is great because it makes games run fast. You won't have to deal with slow loading or glitches. The visuals are clear, and the sounds are clear. Playing from your mobile device is like having a mini-casino in your hands. You can even try out a ZeusPlay demo to see for yourself.
ZeusPlay offers the opportunity to play your favourite slot games wherever you are. It doesn't matter if you're waiting for something or riding a bus; with ZeusPlay's mobile-ready games, you have fun waiting in your pocket.