Best BF Games Slots
BF is renowned for its dynamic array of slots, each masterfully crafted with distinct themes ranging from ancient legends to contemporary happenings. Beyond the captivating narratives, what truly sets BF slots apart are their intriguing features that promise both impression and reward.
One standout feature is the Cash Mesh. By landing 5 or more Coin symbols, players can activate this bonus. As the reels spin, players are treated to Coin symbols with predefined values or even a tempting Jackpot/Bonus. The joyfulness persists until all slots are occupied or the bonus spins conclude.
The Progressive Mystery Jackpot is another alluring aspect. This jackpot is unpredictable; it springs to life when accumulated wins are sandwiched between set trigger limits. The actual winning amount? It's chosen randomly, adding a layer of mystery.
Let's explore the top BF Games casino slots and what's unique about them:
Book of Gods
Jump into the world of ancient Egypt with the "Book of Gods" slot! This game will take you through time, unveiling the tales of mighty pharaohs and gods. Released in 2019, "Book of Gods" has become a favourite among many. With its RTP rate ranging from 92.15% to a solid 96.12%, players get a good mix of fun and reward. The game has 5 reels, 3 rows, and 10 paylines – simple yet exciting.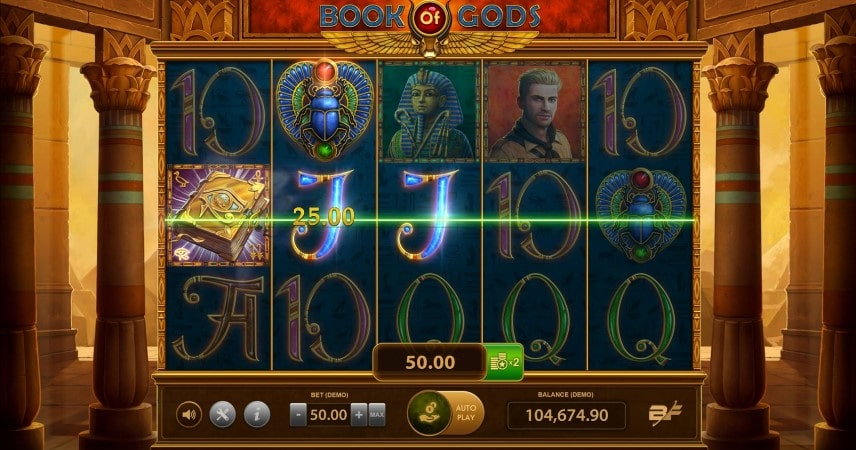 Now, let's talk about the look and feel. The game truly captures the essence of Egypt. Soft background tunes give off an ancient vibe. And the symbols? They're a visual treat! You've got intriguing sarcophagi, powerful god icons, and mysterious golden books.
Winning in this game feels great. Land on three Scatter symbols, and bam! You get 10 Free Spins and an Extra Scatter symbol to spice things up. There's also a Wild Symbol, increasing your chances of striking gold. The Gamble Mode is a fun twist for those who like to take risks. Want to relax? Just turn on AutoPlay, sit back, and watch everything happen.
Chicken Madness Ultra
Are you ready for some poultry-powered fun? This slot game was launched in 2023 and promises to keep players on their toes. Built with 5 reels and 3 rows, it's both familiar and packed with surprises. A casual player or a high-roller, you'll love the RTP range – from a steady 92.05% to 96.01%. Every spin is a whirlwind of excitement and potential rewards, thanks to its high session volatility.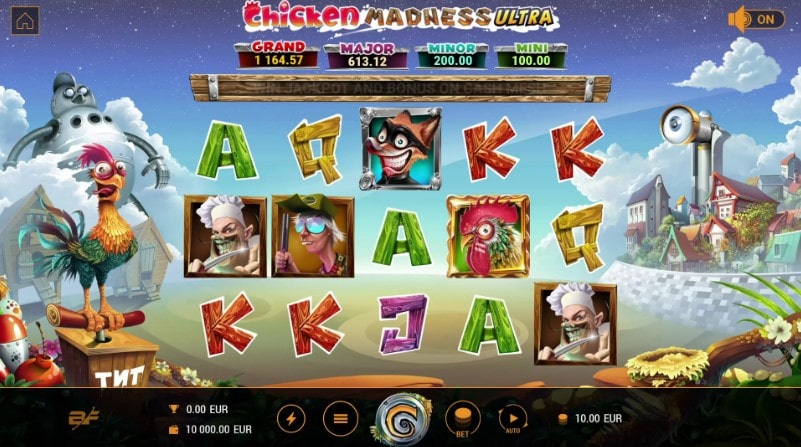 The graphics of Chicken Madness Ultra bring a mix of humour paired with toe-tapping background tunes. As you spin, watch out for the Cash Mesh feature, an innovative addition that amplifies the gameplay. From tractors to wild chickens, the symbols embody the theme perfectly, making the experience fun-filled.
When it comes to winning combinations, this BF game doesn't disappoint. Consecutive wins can reward players with multipliers ranging from ×2 to ×5. Landing five or more Coin symbols activates the Cash Mesh, where coins can flaunt either a Jackpot or Bonus label. While Mini and Minor Bonuses offer multipliers to your stake, the Major and Grand Jackpots, which grow with every spin, are the real treats.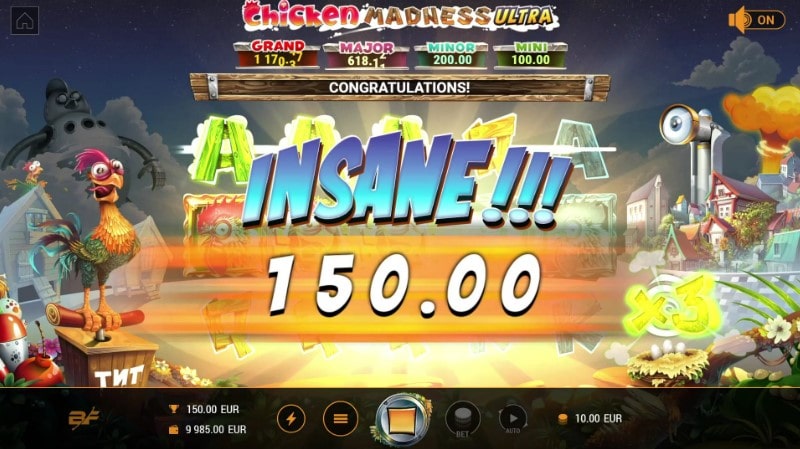 Moreover, scoring 15 Coin symbols during Cash Mesh blesses players with a 2x Full House Multiplier. And if you thought the madness ends there, think again! Even if all reel positions aren't filled during Cash Mesh, bonus spins might come your way randomly. So, are you ready to let the feathers fly with Chicken Madness Ultra? Join the farmyard fun and rake in those wins!
Burning Slots Cash Mesh
As one of the top games in the industry, Burning Slots Cash Mesh, released in 2023 by BF, is a fiery sensation with a unique twist on the classic fruit slot theme. With its 5-reel, 3-row setup, players have 5 electrifying ways to strike gold. The game offers an RTP ranging between 92.05% to a commendable 96.07%, setting the stage for thrilling outcomes.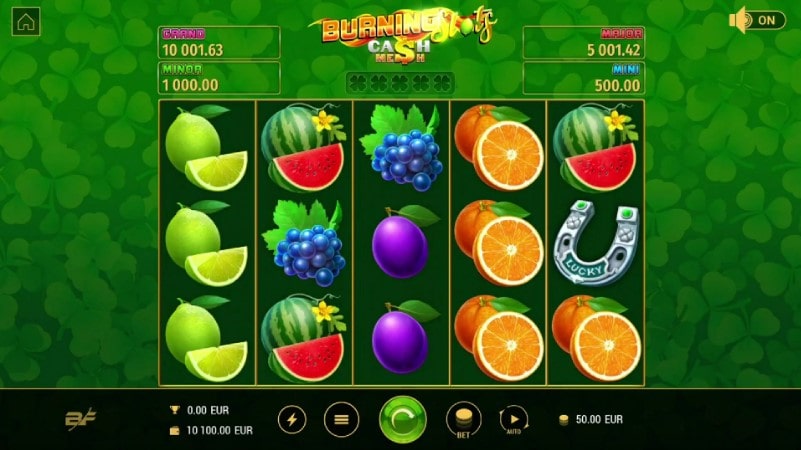 Set against a blazing backdrop, the game captures the essence of classic casino gaming. Bright, juicy fruit symbols offer a reminiscance, while modern features keep the adrenaline pumping. The upbeat tunes further remind you of traditional casinos, with every spin adding to the anticipation.
But what truly sets this game apart are its features. The Cash Mesh is the star here. When players land five or more Coin symbols, they activate this bonus. Initially, you're granted three re-spins, but landing another Coin resets the count. This feature continues until the respins run out, or every position showcases a Coin. A Full House, achieved by filling all reels with Coins, rewards players with a 2x multiplier on the total Coin value.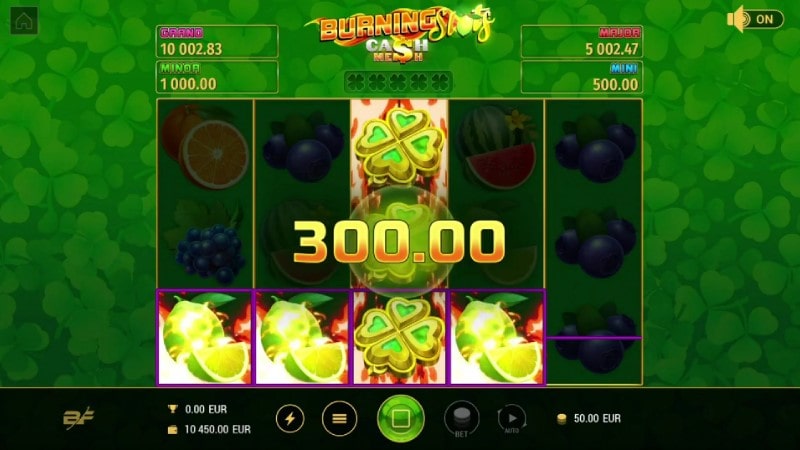 Jackpot or Bonus symbols during Cash Mesh? They bring additional wins! Mini and Minor Bonuses reward you with 2x and 3x your bet. Major and Grand Jackpots grow after each spin, fueled by the players themselves. They can drop anytime, making every spin an affair.
Buffalo Trail
Released in 2021, Buffalo Trail™ is one of BF's most famous slots. This game brings five reels, three rows, and 25 fixed pay lines. Players have a fair shot at striking it big with an RTP ranging from 92.15% to 96.16%. Keep a close watch for those Scatter symbols, as catching three or more will reward you with up to 24 Free Spins. It's not just a game; it's an adventure waiting to unfold!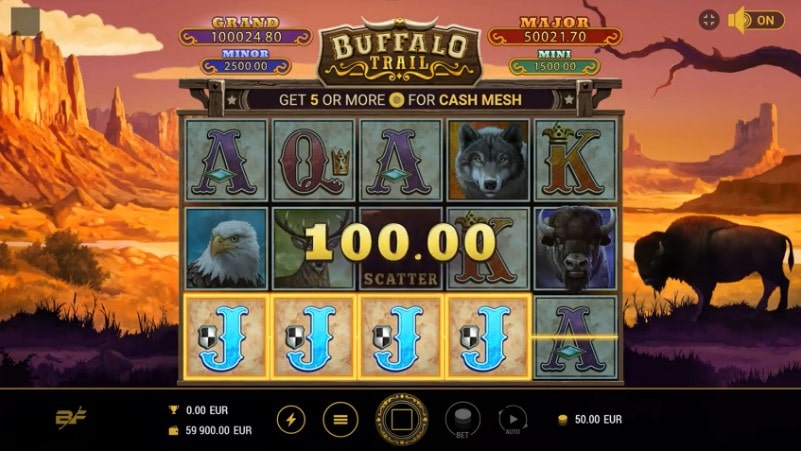 Gold Coin symbols hold particular value. Landing them activates the Cash Mesh Bonus, where big wins await. And these aren't just ordinary wins; they can be doubled for a truly wild reward! The Buffalo Trail™ promises not just spins but a whirlwind of ventures. With massive jackpots, bonus games, and the chance to gather gleaming Coin symbols, it's a trail every player will want to tread!
Stunning Hot Remastered
BF Games is back with a sizzling treat, reintroducing their classic – Stunning Hot Remastered™. Released in 2020, this game perfectly marries the old with the new. With an RTP of 96.01% and a setup featuring five reels, three rows, and five fixed paylines, it's designed to appeal to all, from beginners to seasoned slot lovers.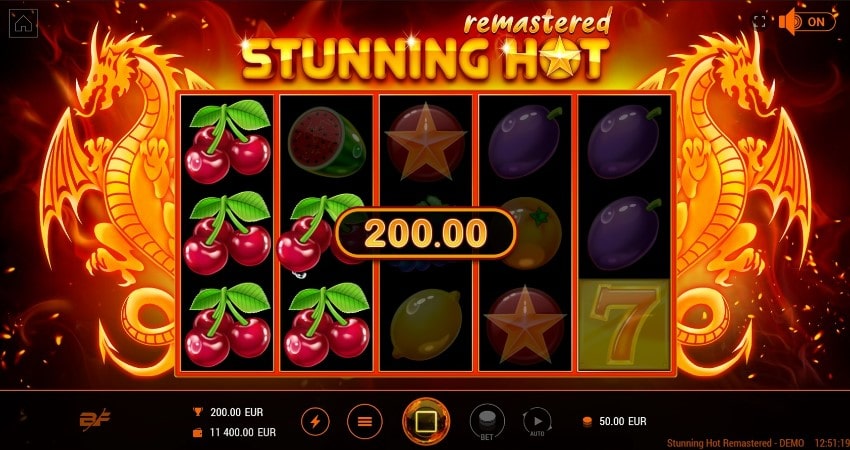 The revamped version is a visual and auditory joyride. Vibrant, glowing fruit icons take you back to the traditional slot machine days but with a fresh, modern look. As the reels turn, a lively tune races your heart, making every spin, win, and unique feature more exhilarating with its enriched graphics and sound.
Game-wise, keep an eye out for the Golden Star, which is the Scatter symbol here. It can pop up on any reel and offers some of the most tempting payouts. And if you're in for some added euphoria, there's the Gamble mode. Here, you can try to double your loot, taking the process up a notch. With Stunning Hot Remastered™, BF Games showcases its gift for giving timeless classics a new spin. It's more than a game – it's old-school meets new in the most fun way possible!
Cave of Fortune
The Cave of Fortune™ is a slot teeming with goblins and glittering treasures. Launched in 2021, this game features 5 reels and 30 paylines. The RTP varies from 92.13% to a tempting 96.04%, offering everyone a chance at striking gold. And watch out for those Nitro symbols – they can set off a cascade of fun surprises!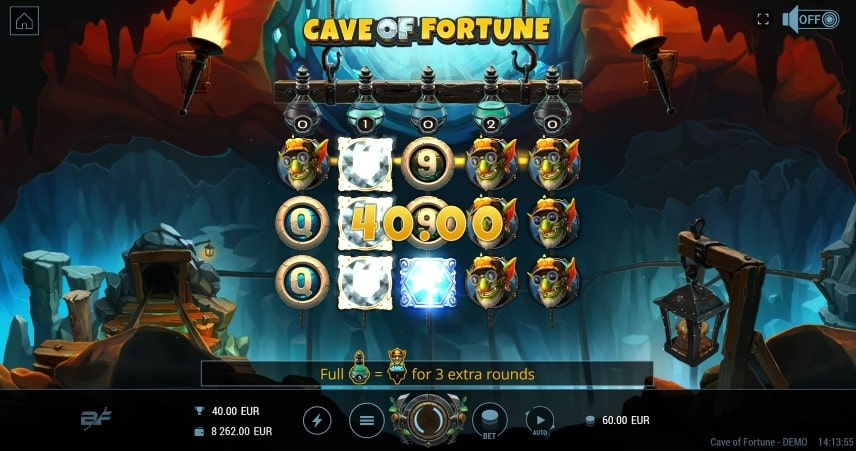 Imagine entering into a cavern lit by gleaming gems, where goblins tirelessly dig for hidden riches. These interesting creatures create an ambience that's filled with mystery, and with each spin of the reel comes the gentle murmur of cave whispers around you. Also, the goblins aren't there for nothing – they become wild symbols to add more spice to your gameplay.
The most interesting aspect of the slot game is its unique feature. When you land three or more Treasure Chest Scatters, you activate up to 20 Free Spins and the dynamic Explode Feature. But that's not all the size on offer. When you gather 15 Nitro Symbols, you might just hit the Grand Jackpot!
Horizon Hunters
This takes you on a compelling trip into the Wild West! Spanning 5 reels and 3 rows, the slot offers players 10 unique ways to secure a win. This slot launched in 2023 comes with an RTP anywhere between 85.05% to 96.04%. So, players have different ways to test their luck.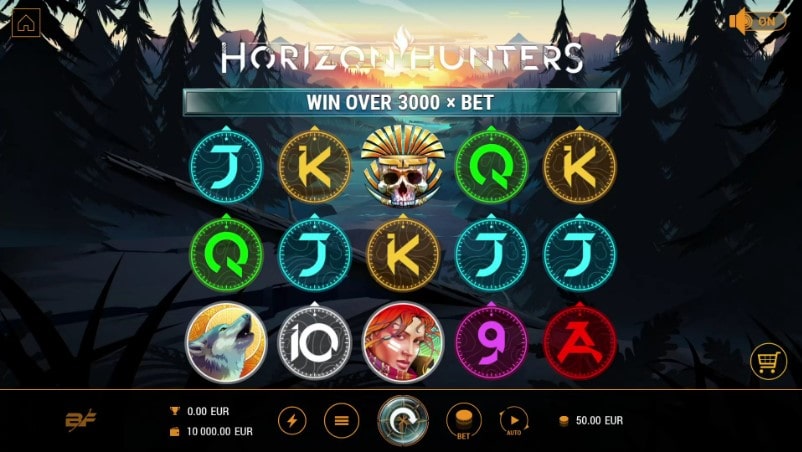 To give you an idea about what playing this slot is like, imagine being on a vast stretch of desert sand, the sun painting the sky in shades of gold, with a mysterious outline of wolves guarding hidden treasures. As you play, tension-filled tunes set the mood. However, you should be clever with Skull Scatters to unlock these treasures, make allies with Mask Wilds, and seize those Free Spins. It may be challenging, but the reward is truly worth it!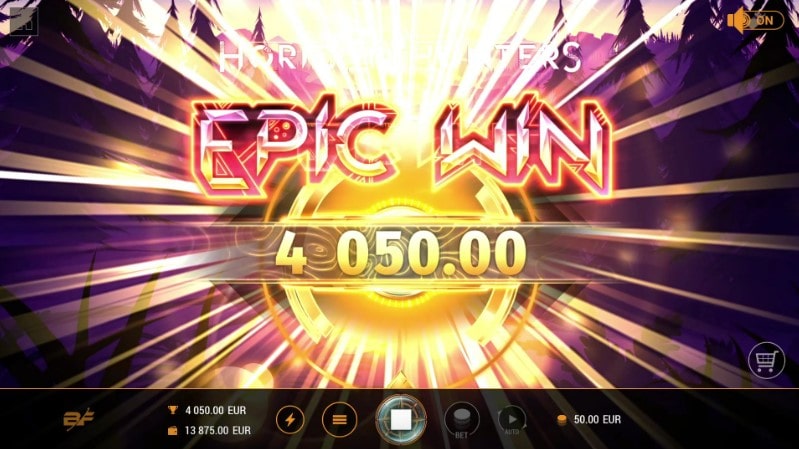 But there's more to Horizon Hunters than just spinning the wheels. It's a saga of courage where symbols spin tales of risk, reward, and relentless pursuit. Strike the right combination, and you'll bag a gold bounty. Yet, be wary of those wolves; they don't just stand guard as mere symbols. Their presence hints at golden treasures close by. Land the Free Spins and multiply your chances to win big. So, saddle up, take aim, and let Horizon Hunters lead the way to unseen wealth!
Stunning Crown
Enter the world of "Royal Fruit Fiesta," the freshest addition to BF Games' lineup from 2023. Housed in a 5×3 frame, it bursts with colour from juicy fruits, granting players 10 dynamic opportunities to claim victory with every turn. And with a generous RTP peeking at 96.02%, it's not just about fun – there's real gold at stake!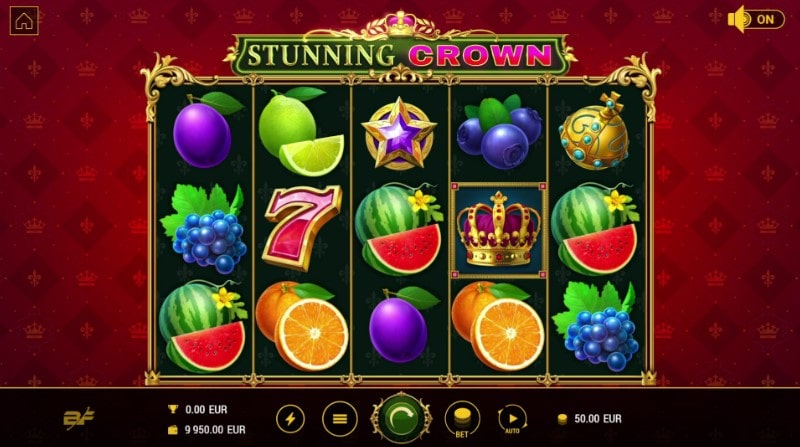 As you step in, you're greeted with the luxury of a grand palace. The BF online gambling slot has a majestic setting, and every spin is backed by lively melodies that warm your heart. The rotating fruits – red cherries, tangy lemons, and succulent grapes – are a sight to behold. But the real treasures lie in the game's special symbols. Keep your eyes peeled and your fingers crossed; these symbols could be the ticket to your next big win!
The shining stars in this game, quite literally, are the Star symbols. Landing three or more stars anywhere on the reels can get you some handsome rewards. But there's more to keep an eye out for. The majestic crown, the game's namesake, is another highlight. This crown doesn't just sit pretty. When it appears in the middle reels, it can replace other symbols, helping you form a winning line. Sometimes, this crown expands, taking over a whole reel and boosting your chances to win. Lastly, the magical orbs are a treat. Spot three of these on the first, third, and fifth reels, and you unlock a special feature. This bonus round can be your ticket to some big wins.
Dragon's Chance
Explore the world of Asian myths with Dragon's Chance, crafted beautifully by BF. Launched in 2023, this slot game offers a 5×3 reel structure. With 243 ways to win and RTPs varying from 92.01% to 96.01%, it's poised to become a favourite among slot players. And with its high volatility, unexpected big wins are always on the horizon.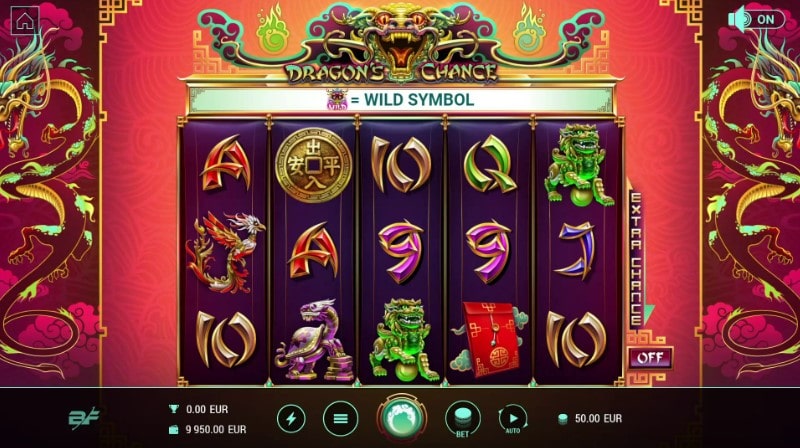 Dragon's Chance is more than just a game; it's a voyage through an enchanting Asian landscape. Gentle background melodies accompany your spins, setting a calming ambience. The visuals are a masterpiece, showcasing symbols like age-old coins, regal dragons, and other intriguing elements. The magic unfolds with the dynamic Dragon Wilds and Coin Scatters, unlocking the game's most coveted prizes. When you land three or more Coin Scatters, the Bonus Game unveils, offering a choice of Free Spins packages. The mesmerizing Dragon Wilds, radiating vibrant hues, grace the central reels, substituting other symbols to amplify your winning potential. They become even more potent with multipliers during the Free Spins.
Activate the Extra Chance feature for those eager to ramp up their spins. Though it comes at a slight premium, it adds extra spins to every Bonus Game triggered. And if the elusive envelope symbol appears during a Free Spin, rejoice! It promises a bet multiplier ranging from a modest 2x to a jaw-dropping 50x.
Stunning Cash Ultra
Prepare for a gameplay sensation with BF Games' latest slot: Stunning Cash Ultra. Launched in 2022, the classic yet refreshingly modern game boasts 5 reels and 3 rows, offering 20 unique ways to win. With RTP rates ranging from 92.03% to 96.04%, it's no wonder British players are lining up to take their chances with this medium volatility slot.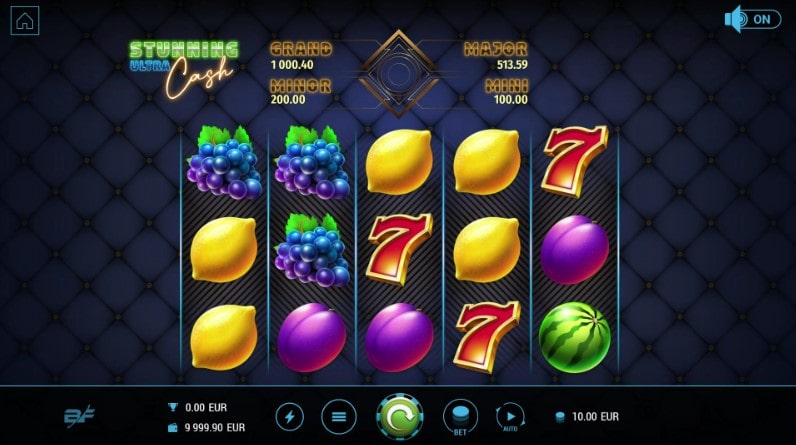 Immerse yourself in the vivid world of "Stunning Cash Ultra". This slot keeps it classic with juicy fruit symbols but adds a sprinkle of modernity with its Cash Mesh feature. The upbeat background music ties together the game's theme, keeping you entertained. As you spin, you'll quickly feel the nostalgia of traditional slot machines mixed with innovative, contemporary features.
Now, let's talk winnings. The Scatter symbol is a player's delight, appearing once on all reels and bringing you closer to victory with just three matches. The Coin symbol? That's your golden ticket! Get at least five, and you're in for the Cash Mesh feature – a spinning spree of three respins, where every coin landing holds its position. Secure 15 Coin symbols during Cash Mesh, and you're treated to a 2x Full House Multiplier, amplifying your total reward. This makes it one of the best BF games to play. They grow progressively juicier with every spin from players across the server.