To start your thrilling gaming journey at Royale500 Casino, follow these simple steps to register and confirm your account:
In the realm of online casinos, various promotional offers such as bonuses, daily promotions, and welcome offers are commonly employed. These are designed with the dual purpose of attracting new players and rewarding existing ones, serving to enhance the overall gaming experience and engagement. And while Royale500 offers fewer deals than some other casinos do, it still provides some opportunity for a boost.
Royale500 Casino Welcome Bonus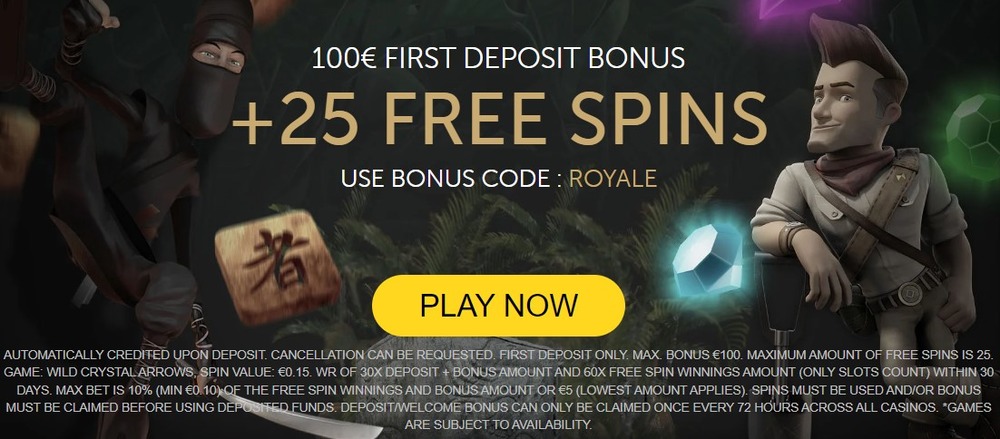 New players at Royale500 are eligible for a £50 first deposit bonus. To avail of this offer, a minimum deposit of £20 is required along with the usage of the promo code "UKROYALE".
The extra funds aren't the only advantage for newcomers. Royale500 also awards players with 33 Free Spins to use on selected slot games, presenting an opportunity for real money winnings. Do note, however, that any winnings obtained from these free spins are subject to a 60x wagering requirement.
| | | | | | |
| --- | --- | --- | --- | --- | --- |
| Deposit | Min. Deposit | Bonus Amount | Game | Promo code | Wagering Requirements |
| 1st | £20 | 100% Up to £50 + 33 Free Spins | Book of Dead | UKROYALE | 30x on Bonus, 60x on FS |
Royale500 Daily Picks
Royale500 Casino presents an exciting feature beyond its enticing welcome bonus – the Daily Picks. This dynamic feature offers a cornucopia of fresh and exciting daily bonuses, serving as an everyday gaming treat that adds an element of surprise and intrigue.
The uniqueness of the Daily Picks stems from its versatility, akin to a chameleon adapting to your distinct gaming desires. Whether you're drawn to free spins, enjoy match bonuses, prefer cashback offers, or seek other gaming enticements, you'll discover them in your Daily Picks. This feature functions as your personal gaming concierge, introducing variety and novelty that keeps your gaming experience vibrant and engaging.
At present, apart from the welcome bonus and Daily Picks, Royale500 seems to have paused other ongoing deals. As a result, it's worthwhile to monitor the casino's promotions page to remain informed about future offers. Also, consider the high wagering requirements when making your gaming decisions. Taking these factors into account, we assign Royale500 Casino a commendable rating of 3.5 out of 5.
Royale500 Loyalty Program
The most loyal players of Royale500 are greeted with a VIP Lounge, an exclusive realm offering a diverse array of enticing rewards and privileges. Be it a fresh-faced member or a seasoned player, every individual is valued here, with rewards that echo their loyalty. You can expect your own VIP Account Manager, invites to exclusive events, access to regular generous Royale500 bonus code offers, and the opportunity to bask in the glamour of luxury vacations and global sporting events once you reach the Executive Levels.
Let's break it down:
VIP Account Manager Just for You: As a VIP player at Royale500, you are treated to your own VIP Account Manager. This professional contact serves as your casino concierge, delivering customised promotions, high-end service, and a level of care designed to enrich your gaming experience.
Access to Exclusive Events and Promotions: Royale500 rolls out the red carpet for its VIP players, treating them to exclusive bonuses and events. Be it a VIP-only tournament, a high-end getaway, or a one-of-a-kind concert, the thrill factor for loyal players is notched up with these special experiences.
Regular Substantial Bonus Offers: A VIP player at Royale500 is someone to be cherished, and the way they express this is through frequent, substantial bonus offers. These bonuses take various forms – from deposit bonuses to cashback rewards and free spins, adding extra winning chances and extending your gameplay.
Extravagant Vacations and Sporting Events: As a player reaching the top tier – the Executive Level, you are given the chance to enjoy luxury holidays and access to world-renowned sporting events. This is Royale500's way of saying thank you to its most committed players, adding a sprinkle of glamour to their gaming adventures.
Overall, Royale500's VIP Lounge gets a rating of 4/5 for its varied benefits and responsible approach. It's a VIP experience that truly stands out.
Royale500 Casino Deposit Methods

One standout feature of Royale500 is the wide range of deposit methods it offers, making it simple for players to fund their accounts. With a minimum deposit of £10 and no cap on the maximum, you can choose a deposit amount that fits your needs and comfort.
Royale500 works hard to provide an efficient and secure process for deposits. This means you can quickly get to your funds and dive into the game you're itching to play. Now, let's break down these deposit methods:
Whether you're a fan of using debit cards or prefer e-wallets, you can be sure your transaction will be secure and fast. And here's the best part – there are no extra fees, and your deposit is credited instantly. This means you can top up your account without a hitch and get back to the thrill of the game right away. Given the convenience and ease it offers, we're giving the deposit system of Royale500 a score of 4.5 out of 5.
Royale 500 Casino Withdrawal Methods
Besides deposits, you'll find many trusted withdrawal options at your disposal at Royale 500. These have been carefully selected to facilitate silky smooth transactions, fortifying the process of pocketing your winnings with an unwavering layer of security. You should note that the minimum withdrawal limit is anchored at a modest £20, thereby accommodating a broad spectrum of players.
| | | | |
| --- | --- | --- | --- |
| Payment Method | Min Withdrawal | Commission | Processing Speed |
| Bank Wire Transfer | £20 | £10 fee for transactions below £500 | 3-7 days |
| Visa | £20 | No fees | 1-5 days |
| Mastercard | £20 | No fees | 1-5 days |
| Skrill | £20 | No fees | Up to 24 hours |
| Paysafecard | £20 | No fees | 1-5 days |
| Sofort | £20 | No fees | Up to 24 hours |
When it comes to options, Royale500 does not skimp. There's an eclectic mix to cater to each player's distinct needs and preferences.
So, whether you're more comfortable with traditional payment methods like Visa and Mastercard or prefer modern digital solutions like Skrill, Paysafecard, or Sofort, rest assured that Royale500 has got you covered. This casino not only provides a smorgasbord of withdrawal options but also ensures each transaction is processed with efficiency and security as its linchpin.
As you navigate the withdrawal process at Royale500, it's crucial to factor in the Bank Wire Transfer fee while choosing the most suitable method. Making a well-informed choice facilitates a smooth transition from accumulating virtual casino wins to relishing your real-world earnings. Given these considerations, we award Royale500's withdrawal process a robust 4 out of 5.
Royale500 Customer Service
Royale500 Casino takes its customer service seriously, which is a big win for players like us. They've got a team of pros ready to help whenever you have a question or need a hand with something. To make your experience even smoother, try contacting the team that can best answer your question.
Need to get in touch via email? No problem. Send your queries to [email protected]. They're pretty quick to respond, which is always good news for us players. You also have the option of using their online form right on the Royale500 site – a nice touch for quick question submission.
If you're a fan of social media, you'll find Royale500 on Facebook. It's a great way to stay connected with the brand, get the latest updates, scoop on promotions, and it's another handy way to reach out.
One thing we've noticed is that there's currently no FAQ section on their site. But don't worry, the support team is more than capable of tackling any questions you might have. With all these different ways to get in touch, you're in good hands. We give their customer service a strong 4 out of 5.
Royale500 Mobile Experience
For those of you who like to game on the go, Royale500 has you covered. Now, they don't have a dedicated mobile app, but don't let that worry you. Their mobile casino is a top-notch alternative, performing beautifully across a range of devices.
| | |
| --- | --- |
| Category | Status |
| Platform Compatibility | iOS, Android, and Windows |
| Browser Compatibility | Yes |
| Mobile Application | No |
This mobile site is like a shapeshifter – it adapts perfectly to whatever screen size you're using, which means you'll have no problem playing on your smartphone or tablet. Whether you're using an iOS or Android device, you can access all your favourite games, manage your account, and even explore new features – all from the comfort of your mobile device.
But the best part about the mobile website? It's the fact that you can access it directly through your browser. No need to worry about downloading extra software, which means more time for playing your favourite games. Given the user-friendly and responsive design of the mobile site, we feel it's only fair to give Royale500 a well-deserved 4 out of 5 for their mobile gaming experience.
Royale500 Diverse Games Selection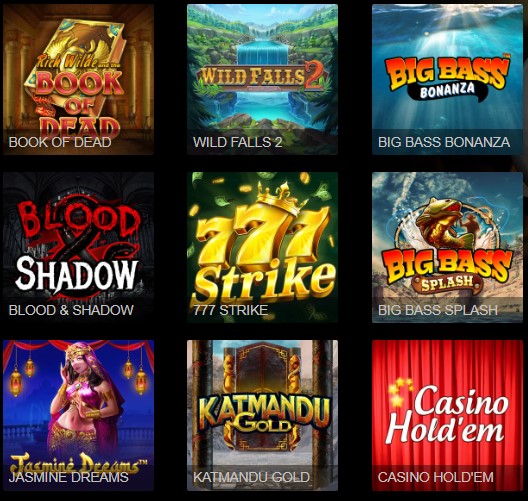 At Royale500, over 4000 games are at your disposal, spanning various genres like slots, roulette, video poker, and table games, with a live casino section providing a real-world casino experience right from your screen.
| | | |
| --- | --- | --- |
| Game Type | Number of Games | Most Popular Game |
| Slots | 4500+ | Book of Dead |
| Roulette | 20+ | First Person Roulette |
| Video Poker | 6 | Deuces Wild |
| Table Games | 15+ | American Blackjack Turbo |
| Live Casino | 80+ | Crazy Time |
Slots take up the lion's share of the games selection, with crowd-pleasers such as the visually striking Book of Dead. However, if roulette is more your speed, you have various options, with First Person Roulette being a top choice among players. For video poker fans, games like Deuces Wild are available, and table games enthusiasts have blackjack and other options. The live casino section, though smaller, doesn't disappoint with a healthy variety of live dealer games, such as numerous Live Blackjack versions.
These games are powered by some of the leading software providers in the industry, ensuring a high-quality gaming experience. From Pragmatic Play, NetEnt, and Microgaming to Evolution Gaming and G.Games.
A nice feature of Royale500 is the ability to check the rating and basic information about each game. This allows you to make informed decisions before wagering on a specific game. Also, by displaying the number of times a game title has been played recently, you can gauge the game's popularity among your fellow players.
To conclude, while Royale500 offers a wide selection of games, the site could improve its search functionality and sorting options. Adding a search feature and expanding sorting options would significantly enhance the user experience, making it easier for players to find their favourite games. As it stands, we're giving Royale500 a rating of 4 out of 5.
Royale500's Slots Collection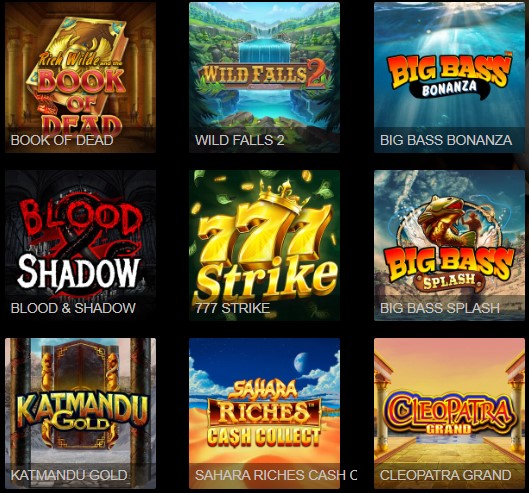 At Royale500, slot lovers are sure to appreciate the diverse range of games on offer. With a broad array of slot games available, you can expect an immersive and riveting gaming experience.
Here, you'll find slots with varied themes and features, along with a range of Return to Player (RTP) percentages. Notable titles include the popular "Book of Dead" by Play'n GO, which takes you on an exciting Egyptian adventure. "Big Bass Bonanza" by Pragmatic Play gives you the thrill of a fishing expedition with bonus features to enhance the excitement. For those looking for a fun, casual gaming experience, "Fruit Spin" by NetEnt, with its colourful theme, is sure to delight you.
Royale500's Roulette Collection
Roulette aficionados are also in for a treat at Royale500 Casino. A rich tapestry of roulette games awaits, ready to enthral you with their unique interpretations of this classic game. With captivating gameplay and immersive experiences, Royale500 ensures players have a memorable time at the virtual roulette table.
| | | |
| --- | --- | --- |
| Game Title | RTP | Provider |
| First Person Roulette | 99.17% | Evolution Gaming |
| European Roulette Pro | 97.30% | GVG |
| First Person Lightning Roulette | 97.30% | Evolution Gaming |
| French Roulette Pro VIP | 97.30% | GVG |
| 20p Roulette | 97.30% | Inspired Gaming |
| Multifire Roulette | 97.30% | Switch Studios |
| French Roulette Pro Reg | 97.30% | GVG |
| French Roulette Pro | 97.30% | GVG |
| First Person American Roulette | 94.74% | Evolution Gaming |
| American Roulette Pro Reg | 92.11% | GVG |
If you've got a taste for the traditional, the elegance and charm of European Roulette Pro may appeal to you. Or if you prefer something with a bit more spark, First Person Lightning Roulette could provide the electrifying experience you're looking for.
Take a walk on the high-roller side with French Roulette Pro VIP, where you can experience the thrill of betting big in an exclusive setting. For those who enjoy the simplicity and accessibility of classic games, 20p Roulette will make you feel right at home. French Roulette Pro Reg offers an immersive, classy vibe for players seeking a stylish gaming experience.
Royale500's Video Poker
For those with a fondness for skill and strategy, Royale500 Casino boasts an impressive lineup of video poker games. You'll find yourself completely engrossed in the world of cards, where every decision can lead to a rewarding victory.
| | | |
| --- | --- | --- |
| Game Title | RTP | Provider |
| Aces & Faces | 98.5% | GVG |
| Joker Poker | 98.47% | GVG |
| Jacks Or Better | 98.45% | GVG |
| Joker Poker 3 Hands | 98.07% | GVG |
| Deuces Wild 3 Hands | 97.69% | GVG |
| 2 Ways Royal Video Poker | 97.02% | GVG |
Every game combines the fundamental rules of classic poker with innovative features, creating a perfect blend of old and new. From classic variants that follow traditional rules to more modern versions with unique twists and exciting bonus features, there's a game for every type of video poker player at Royale500.
Royale500's Table Game Collection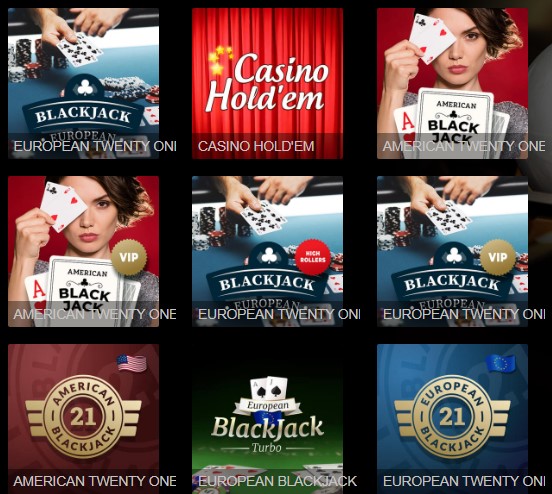 Table games fans will appreciate the extensive selection at Royale500 Casino. There you can enjoy an impressive selection of games, each with its unique set of rules and strategies, designed to entertain and challenge players of all skill levels.
| | | |
| --- | --- | --- |
| Game Title | RTP | Provider |
| American Blackjack Turbo | 99.57% | GVG |
| American Twenty One Blackjack | 99.57% | GVG |
| European Blackjack Turbo | 99.42% | GVG |
| European Twenty-One Blackjack | 99.39% | GVG |
| First Person Baccarat | 99.17% | Evolution Gaming |
| First Person Lightning Baccarat | 99.17% | Evolution Gaming |
| First Person Golden Wealth Baccarat | 98.85% | Evolution Gaming |
| Football Studio First Person | 96.27% | Evolution Gaming |
| Dragon Tiger First Person | 96.27% | Evolution Gaming |
| Dragon Tiger | 96.27% | Switch Studios |
If blackjack is your game of choice, prepare to be thrilled by the likes of American Blackjack Turbo, which provides fast-paced action that's sure to keep you on your toes. European Twenty One Blackjack adds a layer of sophistication to the classic game, while the European Blackjack Turbo variant delivers a fresh spin on the familiar gameplay.
Baccarat enthusiasts aren't left out. The casino boasts an exquisite range of baccarat games that cater to different tastes. Test your strategy with First Person Baccarat, or indulge in the luxurious First Person Golden Wealth Baccarat. For those interested in an innovative gaming experience, First Person Football Studio offers a unique blend of sports and casino gaming.
Royale500's Live Casino Overview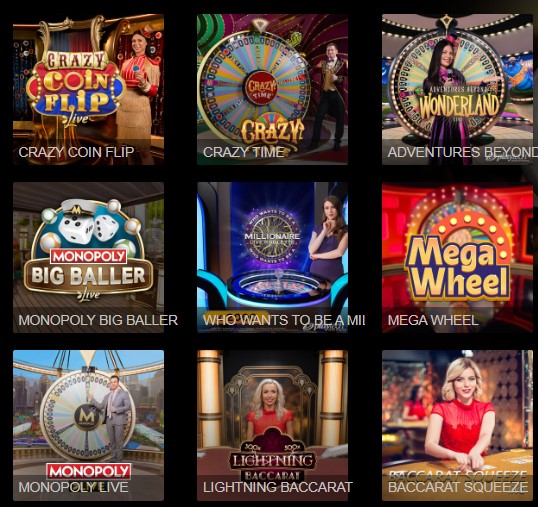 Live games at Royale500 Casino offer a thrilling blend of cutting-edge technology and real-time interaction, elevating the online gaming experience to a whole new level. This platform brings the authentic casino atmosphere to the comfort of your home, complete with professional dealers and real-time game dynamics
| | | |
| --- | --- | --- |
| Game Title | RTP | Provider |
| Dead or Alive: Saloon | 97.02% | Evolution Gaming |
| Mega Wheel | 96.50% | Pragmatic Play |
| Snakes & Ladders Live | 96.30% | Pragmatic Play |
| MONOPOLY Live | 96.23% | Evolution Gaming |
| Crazy Coin Flip | 96.05% | Evolution Gaming |
| Funky Time | 95.99% | Evolution Gaming |
| Football Studio Dice | 95.68% | Evolution Gaming |
| Crazy Time | 95.50% | Evolution Gaming |
| Sweet Bonanza CandyLand | 91.15% | Pragmatic Play |
| Baccarat Squeeze | 89.64% | Evolution Gaming |
In addition to popular offerings like Crazy Time and MONOPOLY Live, Royale500 provides an impressive range of live baccarat options. These games come packed with features, ensuring a high level of engagement and adding an extra layer of excitement to each round. Royale500 also delivers a stellar lineup of live poker games, broadening the appeal to poker enthusiasts seeking the thrill of real-time competition.
Whether it's the vibrant visuals of Crazy Time, the nostalgic charm of MONOPOLY Live, the suspense of Crazy Coin Flip, or the strategic intricacies of baccarat and poker, Royale500 Casino offers an unforgettable live casino experience tailored to your preferences.