Shamans Dream Slot Review
In the heart of America's West lies the Shamans Dream Slot, a notable game by Eyecon, a renowned software development company. Since its introduction in June 2016, this game has offered players a glimpse into the intriguing world of Native American stories.
Every aspect of the slot reflects its central theme. Featuring symbols like the noble eagle, striking totem poles, mesmerising dream catchers, and the rare white buffalo, the game brings the tribal legends to life with every play. The Shaman's Dream isn't just a game; it showcases the story of a shaman, a link between humans and nature, guiding those who play through a thrilling journey.
Shamans Dream Visuals and Sounds
The Shamans Dream slot presents a clear, engaging visual and audio design that enhances the gaming experience. Its Native American theme, alongside tribal stories, gives players a genuine feel of the culture.
The game uses a colour palette reminiscent of dawn skies, blended with deeper shades of nature. This combination creates a calm environment for the game's symbols.
These symbols highlight the depth of understanding of Native American traditions. For example, the Shaman, with his feathered headdress, represents the wisdom of tribal leaders. Feathers, a significant element in tribal stories, are not merely a design choice; they are central to the game's theme and are prominent throughout the design.
The game is set against a simple forest background, illuminated by the gentle light of sunrise. This serene environment frames the tribal symbols, which include figures, musical instruments, animals, dream catchers, and totems.
The game's sound design complements its visuals. The ambient noises, combined with tribal music and nature sounds, create an atmosphere that is both engaging and soothing.
Gameplay and Characteristics of Shamans Dream Slot
The Shaman's Dream Slot takes players further into Native American mythology than just a chance to win. Here, we explore its appealing game concept and flexible betting range to determine the players who will enjoy it the most.
Shamans Dream Game Format
Shamans Dream Slot whisks players away into the mystical realms of Native American folklore, presenting a captivating 5-reel and 25-payline format. Every reel is charged with symbols rich in tribal significance, from the buffalo's strength to the wigwam's sanctuary, all waiting to share their tales with the player.
Betting Range
Adaptable to a diverse range of wallets, Shamans Dream caters to careful betters and daring enthusiasts. The stakes start at a friendly £0.25, ideal for those just venturing into the slots world. For players keen on upping the ante, bets can escalate to a robust £13. With the potential of winning up to 9500x the betting line, the rewards are as thrilling as the game's ambience.
Shamans Dream Target Audience
Shamans Dream casts a wide net due to its versatile betting range and engaging theme. Novices can easily navigate its straightforward format, while seasoned players will appreciate the game's depth and potential payouts. The rich tapestry of Native American culture embedded within ensures that anyone with a penchant for history and storytelling is instantly drawn in.
Shamans Dream Slot Symbols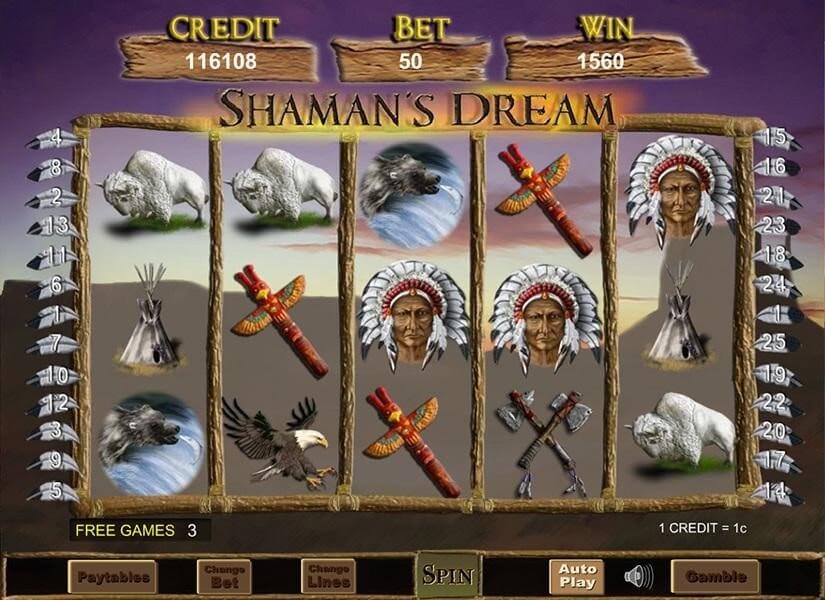 Shamans Dream weaves its narrative with 12 thematic symbols:
Basic Symbols: Totems, necklaces, axes, and bears can award up to 4 times your stake. Knife pouches and wigwams grant up to 5 times, while the white buffalo and eagle can yield up to 10 times your stake. The tribal woman stands out, offering up to 19 times your stake.
High-Value Symbols: The tribe chief and warrior are the stars here, promising rewards up to 38 times your stake when they align.
The Wild Wolf: The game's ace is the white wolf. It can substitute for other symbols, bar the dreamcatcher scatter. A lineup of five can skyrocket your win to 380 times your stake! And when it's part of a win? That payout doubles.
| Symbol(s) | 5 of a Kind Payout | 4 of a Kind Payout | 3 of a Kind Payout | 2 of a Kind Payout |
| --- | --- | --- | --- | --- |
| Scatter-Dreamcatcher | 36x | 1.6x | 0.4x | 0.16x |
| Chieftain | 76x | 12x | 2x | 0.16x |
| Warrior | 76x | 12x | 2x | 0.16x |
| Eagle | 20x | 6x | 0.8x | 0.16x |
| Buffalo | 20x | 6x | 0.8x | 0.16x |
| Ax | 8x | 1.6x | 0.4x | – |
| Bear | 8x | 1.6x | 0.4x | – |
| White Wolf | 760x | 160x | 16x | 0.80x |
| Indian woman | 36x | 8x | 1.6x | 0.16x |
| Weapons | 10x | 2x | 0.8x | – |
| Tent | 10x | 2x | 0.8x | – |
| Totem | 8x | 1.2x | 0.4x | – |
| Dreamcatcher | 8x | 1.2x | 0.4x | – |
Game Features
The central highlight in Shamans Dream is the captivating Free Spins bonus round. You must land at least 3 Scatter symbols during a single spin to activate this feature. Once triggered, you will be granted a generous allotment of 15 Free Spins. What sets this round apart is that all prizes earned within the Free Spins feature are tripled, amplifying the excitement and potential rewards. Additionally, there's even more opportunity for extended play, as the Free Spins feature can be retriggered up to 15 times, offering you the chance to continue your journey for even greater fortunes.
RTP and Variance Shamans Dream Slot
Shamans Dream RTP stands at 95.44%. It might appear modest when stacked against the contemporary standard, where modern slots generally hover between 96% and 96.5%. However, considering the game's release period, when average RTPs trended slightly lower, this figure fits the mould of its era.
Variance, or volatility, describes the frequency and magnitude of payouts. Shamans Dream prides itself on a medium volatility game, ensuring players can anticipate a balanced blend of smaller frequent rewards and occasional heftier wins. A standout feature of this slot, which defies its medium volatility categorisation, is its staggering top prize of 28,000x. Such a reward is a rarity, making Shamans Dream an intriguing outlier in the medium volatility.
Tips for Shamans Dream Slot UK Players
Shamans Dream is more than just spinning reels; it's about strategy, intuition, and a dash of luck. Here are a few pearls of wisdom to consider:
Know the Game: Understanding the paylines is key. With 25, wins materialise when three or more matching symbols align on any line.
Watch the Exceptions: While most symbols require a trio for a win, the wolf, human figures, shaman, eagle, buffalo, and dream catcher stand out, rewarding you even with a 2-of-a-kind combination.
Scatter Magic: Scatter symbols play by their own rules. Spotting two or more anywhere on the reels can boost your winnings, regardless of paylines.
Bankroll Management: Decide your budget before playing and stick to it. Allocate a specific amount for each session and resist the temptation to chase losses.
Maximise Opportunities: While playing all paylines is tempting, sometimes reducing the number and increasing the bet per line can yield more significant returns. Experiment to find what works best for you.
Stay in Control: Slots are meant for entertainment. Remember the golden rule of responsible gambling: only wager what you can afford to lose. Enjoy the game and know when to step back.
Shamans Dream Slot: Top 3 UK Casino Destinations