Meet Beavis and Butt-Head and Start Playing
The hilarity comes to the reels when you open and play Beavis and Butt-Head slot from Blueprint Gaming. You'll find a standard 3×5 grid on the screen with our two characters occupying the whole reel when they appear. This slot machine boasts bets that range from 10 cents up to £500 and are playable across mobile devices using an app, no download required.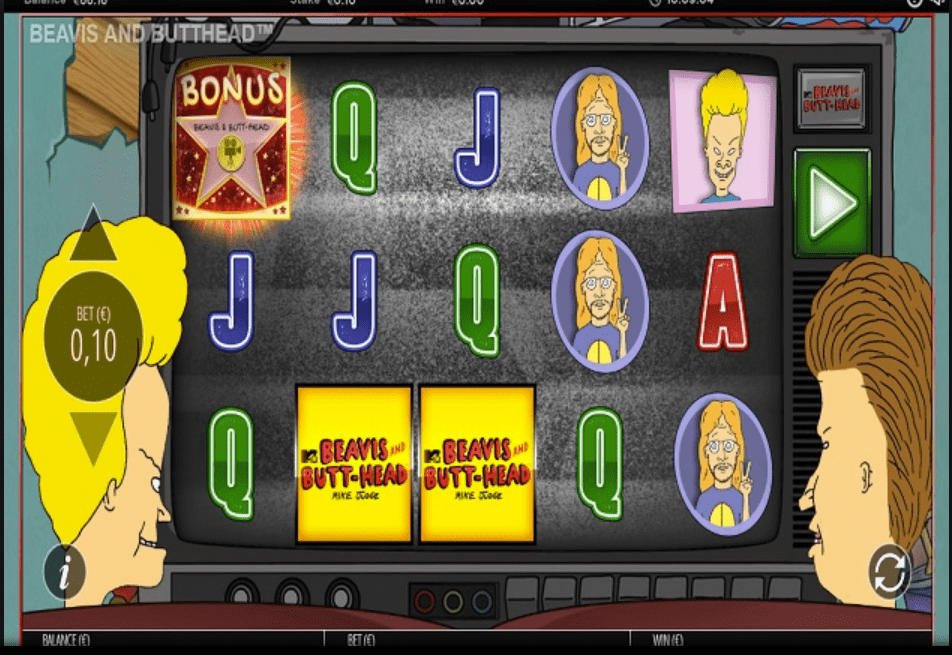 Visually, it's one of the most engaging video slot from Blueprint. However, this slot remains true to its 1990s counterpart- the visuals are cartoonish and fun; it's as if you're still watching the classic TV show.
The game's Menu can be confusing at first due to its theme, but it becomes easier once you get the hang of it. Players will find the Bet button on the left side of the screen and the green 'Play' button on the right side.
The game's appeal starts when you spin the reels and let the show begin. Beavis and Butt-Head slot has plenty of random Modifiers, FS, and bonus spins, and there's a Feature Gamble too that enables you to decide whether to play or pick again. If you go for another pick and the Mystery Win appears, a cash prize is added to your account, returning to the base game.
Beavis and Butt-Head is a medium variance slot and comes with an RTP of 95.49%.
Have Fun with the Gang
Beavis and Butt-Head slot is a fun tribute to the classic TV show. Unfortunately, it lacks the buzz and exciting bonus rounds. There are three Beavis and Butt-Head free spins, but they're too few. There are many Beavis and Butt-Head bonuses, but the mechanics are too complex, and the rewards aren't great.
To improve your chances, use its Feature Gamble option to pick again. Also, it helps if you play this game using your casino's top promotions like voucher coupons or a no deposit bonus. Check the casino's minimum deposit requirement to opt in and qualify for these offers!