To begin your exciting journey at Charming Bingo, follow this simple step-by-step guide to register and confirm your account: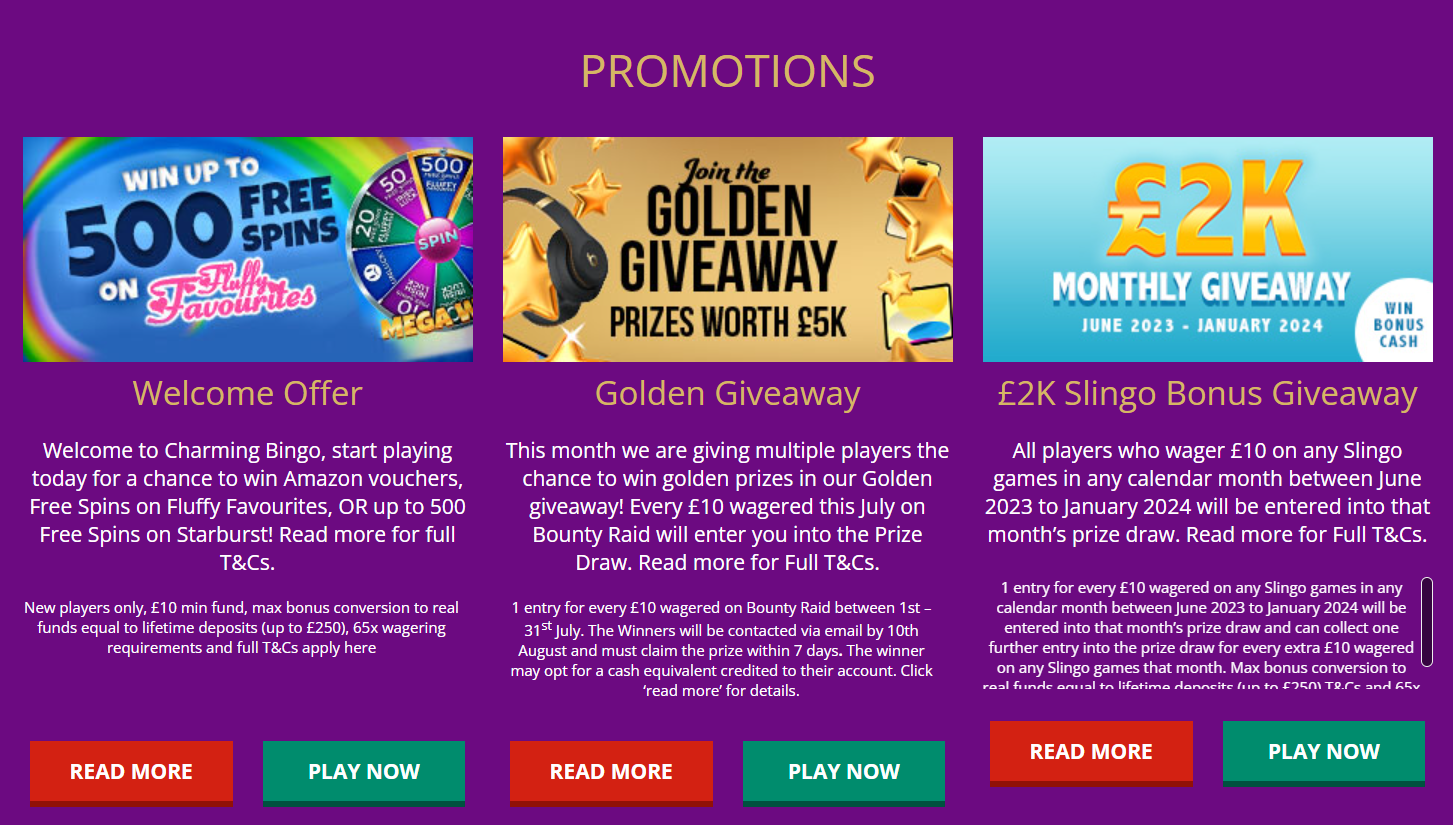 Charming Bingo offers a variety of compelling promotions and substantial offers that increase the enjoyment of your gaming experience. These bonuses at Charming Bingo serve to extend your playtime and enhance the overall excitement of the game. Whether you're new to the platform or a long-time player, Charming Bingo ensures there are bonuses for existing players as well as newcomers. In the following sections, we will detail the diverse range of Charming Bingo bonus codes and promotions, along with how they can improve your online gaming experience. Get ready to delve into the bonus opportunities that Charming Bingo has to offer.
💰 Charming Bingo Welcome Bonus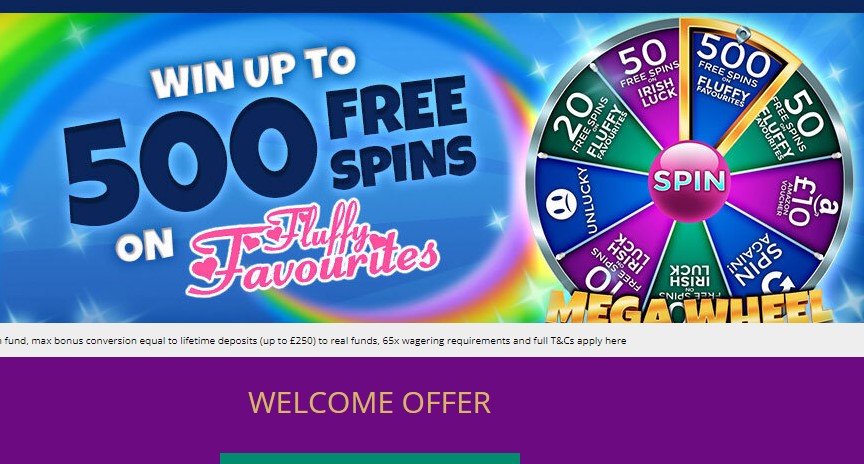 New players at Charming Bingo are greeted with a thrilling welcome bonus. This spins upon your first deposit of £20 or more, offering various prizes, from Amazon vouchers to 500 free spins on select games like Fluffy Favourites.
Post first deposit, players can claim a free Mega Wheel spin on every subsequent deposit of £20 or more.
Wins from free spins are deemed bonus cash, subject to a 65x wagering requirement. Withdrawing before meeting this requirement leads to forfeiture of remaining bonus funds.
💰 Charming Bingo Bonuses for Existing Players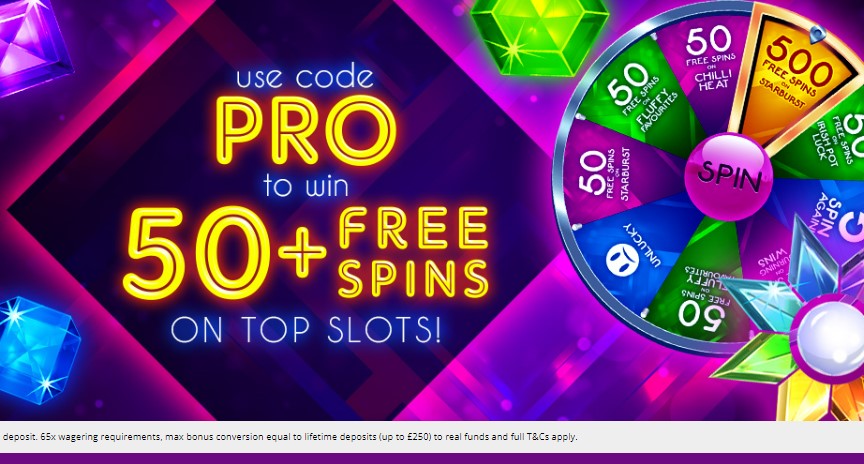 Charming Bingo ensures a rewarding gaming experience for its existing players as well. After utilizing the initial first deposit bonus, players can enjoy several ongoing promotions and Charming Bingo coupon codes that keep the fun alive. These include the regular deposit bonus, the £2K Slingo Bonus Giveaway, the Monthly Scratch for Cash Promotion, and the weekly PRO Free Spins offer. Let's take a brief look at these enticing deals:
Regular Deposit Bonus: Each deposit of £20 or more earns a free Mega Wheel spin with potential rewards like free spins on selected games and Amazon vouchers.
£2K Slingo Bonus Giveaway: A monthly Charming Bingo bonus for Slingo games fans. For every £10 wagered on any Slingo game within a month, players receive an entry into the month's prize draw for a share of £2,000 in bonus funds.
Monthly Scratch for Cash Promotion: Players wagering £10 or more on any scratch card game in a month are entered into a draw for a chance to win £1,000 in real cash.
PRO Free Spins: Deposit £20 or more, use Charming Bingo promo code PRO, and spin the Mega Wheel to win from 50 free spins to 500 bonus rounds on top games. This voucher code can be used weekly.
Charming Bingo's welcome package is indeed charming and inviting. It ensures a thrilling start for new players while keeping regulars engaged with attractive offers. The variety of Charming Bingo bonuses caters to different gaming preferences, making it an appealing platform for diverse casino enthusiasts.
However, players should be aware of the 65x wagering requirements and other terms and conditions. These can be somewhat high compared to some other bingo sites and may be a deterring factor for some.
Given the engaging nature of the welcome offer and the regular promotions but factoring in the high wagering requirements, we rate the Charming Bingo promo code offers and bonuses 4 out of 5.
🏅 Charming Bingo's Trophy-based Loyalty Program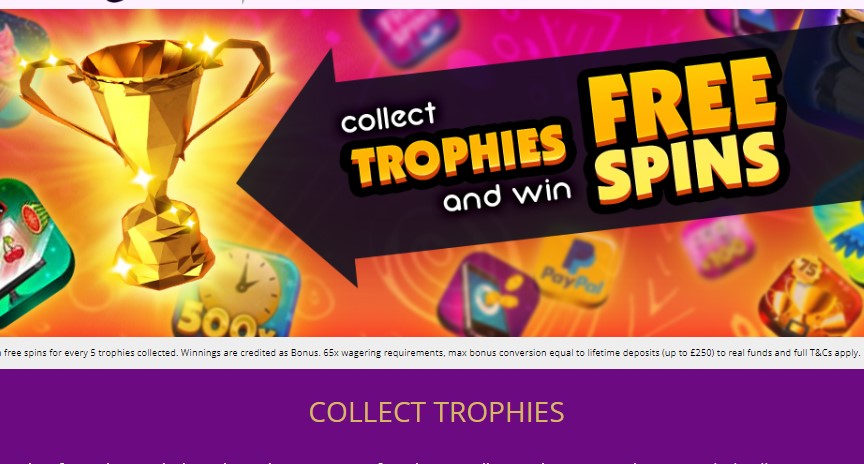 Charming Bingo's loyalty program stands out with its interactive and engaging approach. It's designed around a trophy system where players complete fun tasks to unlock trophies. This feature adds an element of gamification that is both refreshing and engaging, making your journey on the site even more fun and rewarding.
Each trophy represents a task or achievement, ranging from playing on your birthday and getting birthday bonuses, winning big, maintaining a lucky streak, to even simply logging in and winning. This diversifies the gaming experience as players are encouraged to explore and engage with the platform in various ways beyond just playing bingo games.
For every new level unlocked, players get a Free Spin of the 'Mega Wheel', echoing the promotional bonuses described earlier. But here's the exciting part: the higher your level, the better the Mega Wheel you get. This means as you climb up the loyalty ladder, your potential rewards from the 'Mega Wheel' increase, making every level-up a moment of anticipation and thrill.
Below is a breakdown of what you can expect:
| Level | Achievement | Reward |
| --- | --- | --- |
| 3 | Play on your Birthday, Night Owl, Big Win! | Free Spin of the Mega Wheel |
| 4 | Lucky Streak, Early Bird, Login & Win | Better Mega Wheel with Increased Prizes |
| 5 | Shelf filler, PayPal Pro, Play Now, Pay Later, Win at home | Superior Mega Wheel with Top Prizes |
The Trophy-based Loyalty Program of Charming Bingo offers an innovative take on rewarding player loyalty. By turning the process into a game of its own with a progressive reward system, it engages players on multiple levels and enhances their overall experience on the site. However, the wagering requirement of 65x might seem high for some players. Given its unique and entertaining structure, combined with rewarding incentives, we rate Charming Bingo's Loyalty Program a solid 4 out of 5.
💵 Charming Bingo Deposit Methods
Charming Bingo offers a variety of deposit methods, providing players with the flexibility to choose their preferred mode of payment. Deposits are processed promptly, enabling players to start their gaming journey without delay. Please note that the only currency available for all deposits and withdrawals is GBP.
Here is a detailed breakdown of the deposit methods:
Players can make a minimum deposit of £10 at a time. However, a deposit of £20+ is required to be eligible for a bonus via the Mega Wheel. All cards and payment methods used must be owned and/or in the same name as the person registered on Charming Bingo. Additionally, players are allowed to add up to three payment cards to their accounts.
Charming Bingo provides a broad range of deposit methods, giving players the versatility to choose a payment method that best suits their needs. All deposit methods are free of commission and offer immediate deposit processing, making it simple and convenient for players to top up their accounts. A slight limitation is the single currency option (GBP), which may not cater to international players' preferences. However, the ease of use, speed, and zero commission make the deposit process smooth and efficient. On this basis, we rate Charming Bingo's deposit methods a 4.5 out of 5.
💵 Charming Bingo Withdrawal Methods
Withdrawing your winnings at Charming Bingo, a fast payout casino, is a user-friendly process, even when you're using a mobile device. Players simply need to navigate to the 'My Account' section, select the 'cashier' button, and choose 'Make a withdrawal' from the drop-down menu. This fast payout casino provides an option to select the amount you wish to withdraw, ensuring a seamless withdrawal experience.
Verification requires three types of documents: a Photo ID (driving license or passport), Proof of address (utility bill or bank statement dated within the last three months), and Proof of payment method. All documents should be in JPG, PNG, or PDF format and are usually reviewed within three working days.
Here is a breakdown of the withdrawal methods:
| Withdrawal Method | Fee | Processing Time |
| --- | --- | --- |
| Visa | £2.50 | 1-3 working days post pending period |
| MasterCard | £2.50 | 1-3 working days post pending period |
| Maestro | £2.50 | 1-3 working days post pending period |
| PayPal | £2.50 | 1-3 working days post pending period |
| Neteller | £2.50 | 1-3 working days post pending period |
| Skrill | £2.50 | 1-3 working days post pending period |
Once a withdrawal request is made, there is a 72-hour pending period. After this, the funds should land in your account within 1-3 working days, provided that your account is verified.
Charming Bingo has made the withdrawal process straightforward, although the verification process can be a bit time-consuming, requiring multiple documents. Nonetheless, the verification ensures secure transactions and keeps your winnings safe, and thus is a one-time inconvenience that guarantees long-term security.All withdrawals incur a £2.50 transaction fee. For instance, if you withdraw £100, you will receive £97.50. Despite this fee, you maintain the right to withdraw your entire Real Money balance in a single transaction, subject to certain due diligence and account activity checks. However, the processing time could be faster, as it currently takes 1-3 working days for the funds to appear in the player's account. Considering these factors, we rate Charming Bingo's withdrawal methods a 4 out of 5.
📧 Charming Bingo Customer Service
Charming Bingo ensures a hassle-free gaming experience by offering prompt and comprehensive customer support. Their commitment to resolving player queries efficiently and effectively is evident in their unique customer service approach.
Here is a detailed overview of their customer service provisions:
| Support Channel | Details |
| --- | --- |
| FAQs | Charming Bingo's extensive FAQ section provides immediate answers to an array of common questions, ranging from game rules to account queries. |
| Email | For complex issues, players can directly communicate with the support team via email at [email protected]. However, to ensure efficiency, the site advises against sending multiple follow-up emails or creating multiple email chains about the same issue, as it may cause delays. |
| Response Time | Charming Bingo aims to respond to all customer emails within 2 business days, ensuring quick resolutions. |
| Self-Service Tools | Charming Bingo provides various self-service tools for responsible gambling that players can use without contacting customer support, resulting in immediate action. |
Charming Bingo places a significant emphasis on self-service, which is reflected in its extensive FAQ section and self-service responsible gambling tools. This gives players more control over their gaming experience and allows for immediate resolution to a variety of common queries.
Their email support ensures that more complex issues are handled promptly and effectively. The team strives to respond to all queries within 2 business days, demonstrating their commitment to providing excellent customer service.
Charming Bingo's customer service is designed to offer a seamless player experience with an emphasis on self-service and efficient email support. Despite the absence of live chat or phone support, they successfully cater to their players' needs through their comprehensive FAQ section, efficient email support, and self-service tools. There's room for improvement with the addition of more real-time customer support options, but they still manage to deliver a satisfactory level of support. As such, we would rate Charming Bingo's Customer Service a 4 out of 5.
📱 Charming Bingo Mobile Experience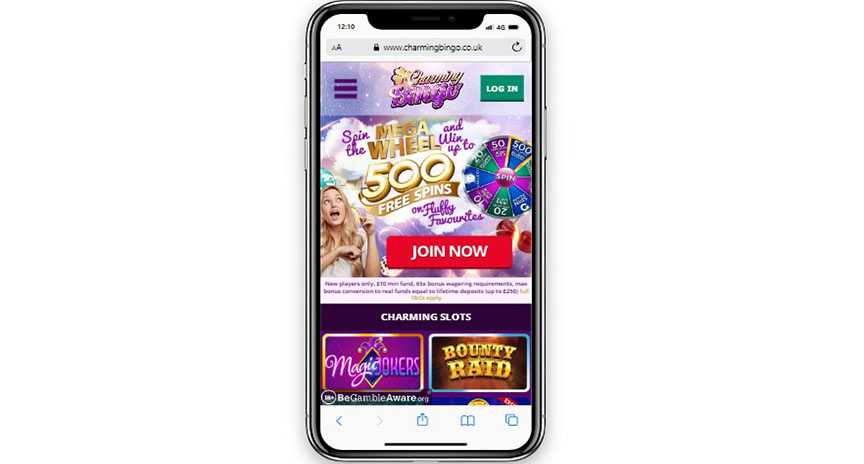 In an era of technology, the importance of a reliable and convenient mobile casino cannot be understated. Charming Bingo has indeed met this expectation, despite not having a dedicated app for players. Instead, it offers a responsive website which can be accessed through any browser on your mobile device, providing seamless access to all your favourite games anytime, anywhere.
Here is a breakdown of the mobile experience:
| Platform | Browser Support | Mobile Application |
| --- | --- | --- |
| Android, iOS, Windows | Any Browser (Chrome, Safari, Firefox etc.) | Not Available |
Navigating through Charming Bingo's mobile site is smooth and intuitive, with clear graphics and an easy-to-use interface. The website automatically adapts to the screen size of Android or iOS device, making it comfortable for players to view and interact with. Importantly, all the features and games available on the desktop version are also accessible on mobile.
Charming Bingo provides an excellent mobile gaming experience, taking the convenience of playing on the go to a new level. While the lack of a dedicated mobile app might be a slight disadvantage for some, the excellent optimization of the website for mobile browsers makes up for it. The ability to play on any platform and browser provides flexibility and convenience, making it easy for players to enjoy their favourite games whenever and wherever they want. Therefore, considering the user-friendly interface, cross-platform compatibility, and overall smooth mobile gaming experience, we rate Charming Bingo's mobile experience a solid 4.5 out of 5.
🎮 An Insight into Charming Bingo Games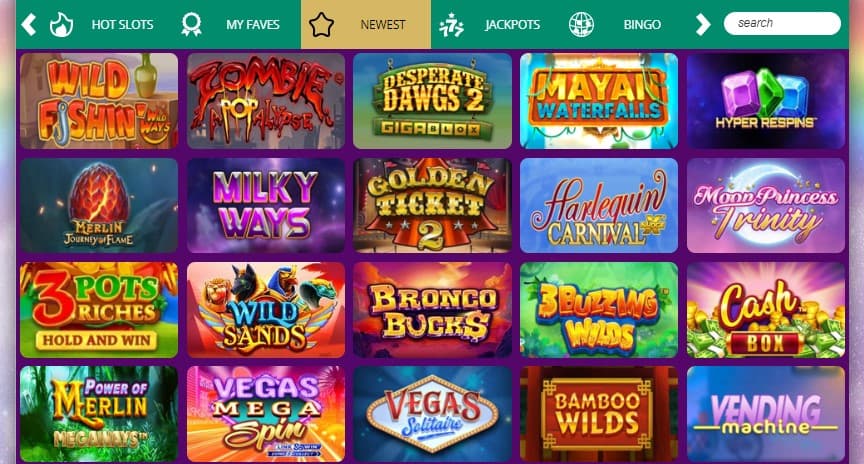 At Charming Bingo, one can explore an enticing collection of over 1200+ games that cater to every player's taste. The platform is incredibly user-friendly, and navigating through the different game types is as easy as a breeze. The wide variety in the game library adds a unique spice to every player's gaming experience, keeping the thrill alive.
Charming Bingo collaborates with some of the leading game providers in the industry to offer a high-quality gaming experience. These providers include renowned names like NetEnt, Microgaming, and Pragmatic Play, among others. Their contributions infuse the platform with a variety of themes and gameplay styles, ensuring there's something for every type of player. With such a rich tapestry of games on offer, players can be sure to find something that suits their tastes at Charming Bingo.
| | | |
| --- | --- | --- |
| Game Type | Number of Games | Most Popular Game |
| Slots | 1000+ | Legacy of Dead |
| Blackjack | 30+ | Classic Blackjack |
| Roulette | 25+ | European Roulette |
| Bingo | 9 | 90 Ball Bingo |
| Scratchcards | 70+ | Diamonds scratch |
| Live Casino | 46 | Live Blackjack |
🎰 Charming Bingo Slots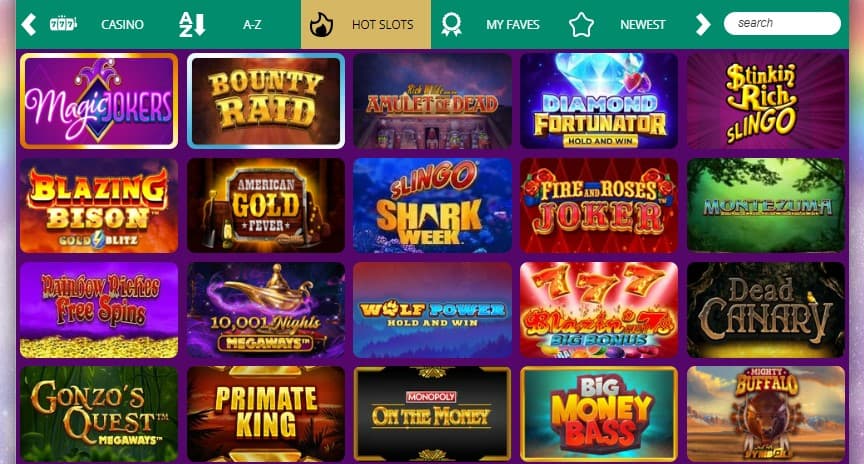 With a veritable treasure trove of over 1000 diverse titles, the slots section is the crowning glory of Charming Bingo's game repertoire. This expansive collection encapsulates the essence of slot gaming in all its vibrant variety. From the nostalgic charm of traditional fruit machines echoing the classic Vegas-style experience to the avant-garde video slots pushing the boundaries of interactive gameplay, every game tells a unique story.
These slots come alive with a plethora of captivating themes, ranging from adventurous expeditions to historical epochs, mythical narratives, and more. The rich and detailed graphics, coupled with immersive soundtracks, provide a multi-sensory gaming experience that is both engaging and entertaining.
🃏 Charming Bingo Live Casino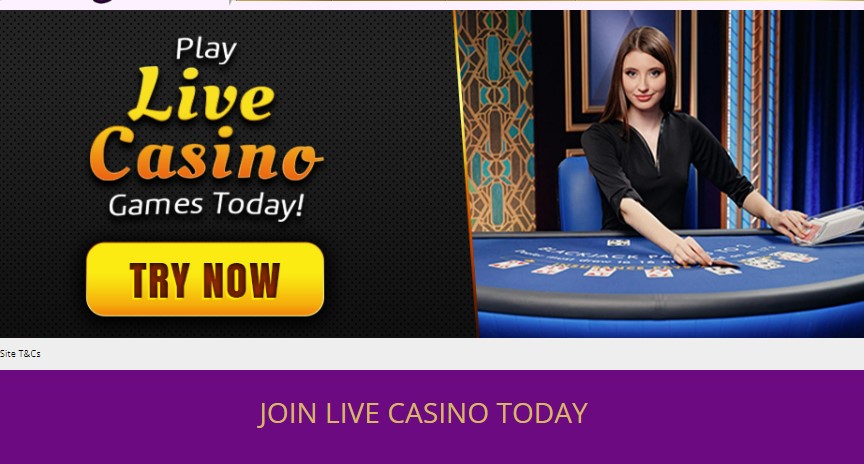 Charming Bingo doesn't just stop at offering an impressive collection of slot and bingo games; it also brings the real-time excitement of a casino right to your screens. It boasts an exquisite selection of 46 live casino games, which can be found in the "table games" section on the site.
The live casino games at Charming Bingo breathe life into the virtual gaming experience. You can engage with professional live dealers, and interact with other players, all while enjoying your favourite table games. The games available include variants of classics such as live blackjack, roulette, and baccarat, among others.
| Game Genre | Most Popular Games |
| --- | --- |
| Live Blackjack | Live Blackjack E, Speed Blackjack, VIP Blackjack |
| Live Roulette | OnAir Roulette, Lightning Roulette,Grand Roulette |
| Live Baccarat | Lotus Speed Baccarat, Multibet Baccarat |
| Game Show | Mega Wheel |
🎲 Charming Bingo Table games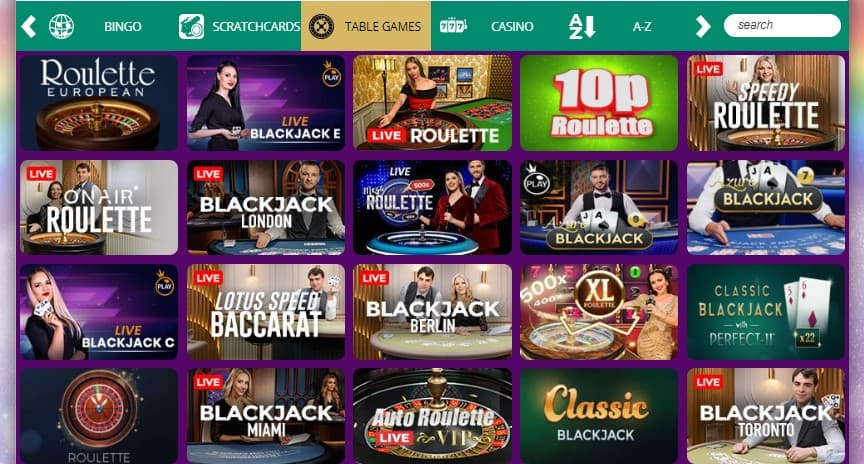 Whether you're an experienced strategist or a beginner drawn to the refined charm of table games, Charming Bingo offers an expansive and immersive platform. Here, you can immerse yourself in the riveting twists and turns of these timeless classics, each variant presenting its own unique set of challenges and rewards.
Here are some of the most popular table games that Charming Bingo offers:
| Game Genre | Most Popular Games |
| --- | --- |
| Blackjack | Classic Blackjack, Classic Blackjack Multi Hand |
| Roulette | Auto Roulette, European Roulette |
▶️ Charming Bingo Scratchcards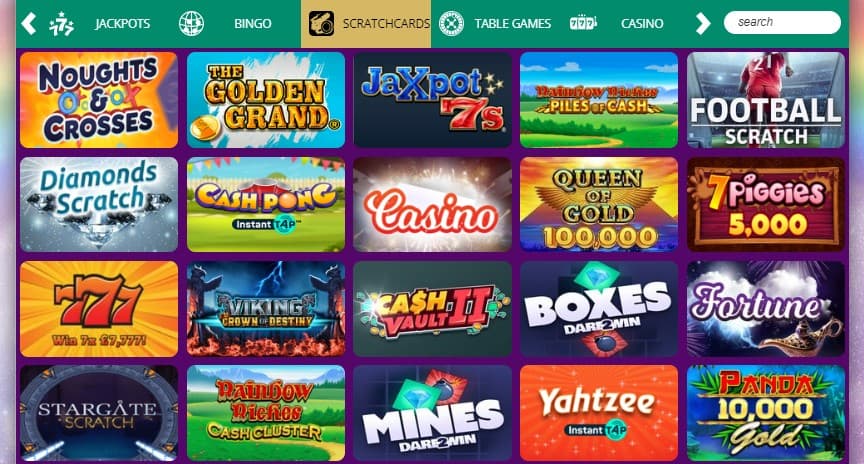 Venture into the fun-filled world of Scratchcards at Charming Bingo and enjoy the instant thrill these games provide. Hosting over 70 unique Scratchcard games, the platform serves a thrilling brew of suspense and instant gratification, perfect for those who love quick results.
Scratchcard games are known for their simplicity and immediate rewards, which are part of their massive appeal. These games require no advanced strategies or gaming skills. The rules are straightforward: buy a card, scratch off the coating, and if the symbols match, you're a winner!
| Game | Description |
| --- | --- |
| Diamonds Scratch | Experience the glitz and glamour of a jewel-studded world with Diamonds Scratch. This game is all about unearthing hidden treasures as you scratch off the protective layer to reveal the sparkling gems beneath. Its stunning graphics and engaging gameplay add an extra layer of fun and excitement to the typical scratchcard game. |
| The Golden Grand | The Golden Grand invites players to a world of golden treasures and rich rewards. This opulent scratchcard game presents a chance to uncover grand prizes, all wrapped in a luxurious, gold-themed interface. If you're looking for elegance in your scratchcard gaming experience, The Golden Grand is the perfect pick. |
| Cash Pong | Cash Pong delivers a fun, sporty twist to the scratchcard game genre. This table tennis-themed game presents players with the opportunity to score big winnings as they 'play' against the computer. With its playful graphics and immersive gaming experience, Cash Pong serves a refreshing change from the traditional scratchcard style. |
🎱 Bingo Selection at Charming Bingo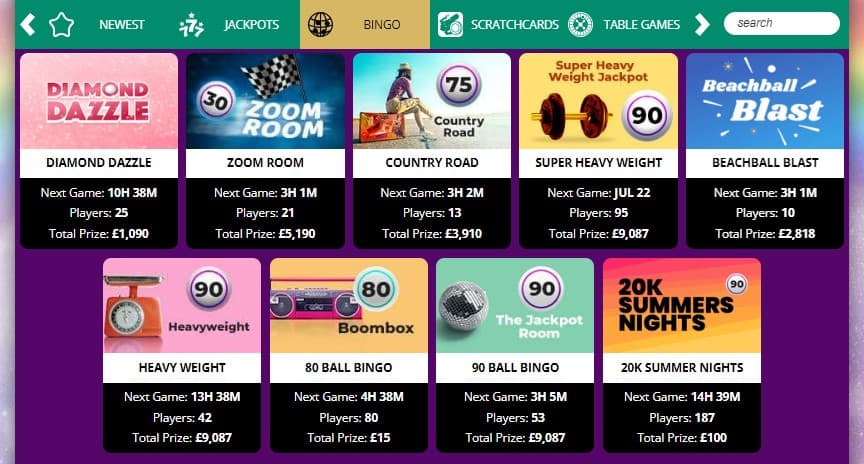 Bingo lovers are in for a treat at Charming Bingo with its splendid selection of bingo games. The platform caters to all preferences with an extensive offering of bingo rooms, ranging from the traditional 90-ball bingo to the speedy 30-ball bingo, all enhanced by the allure of potential bingo bonuses.
Here's a detailed look at the Bingo offerings:
| Type | Availability |
| --- | --- |
| 90-ball Bingo | ✔️ |
| 80-ball Bingo | ✔️ |
| 75-ball Bingo | ✔️ |
| 30-ball Bingo | ✔️ |
| Slingo Bingo | ✔️ |
For players who love a faster, more intense bingo experience, the 30-ball bingo rooms are the go-to option. These rooms offer a quick game variant with speedy rounds and prompt payouts.
The 75-ball bingo rooms, such as the "Country Road", provide an engaging and fun-filled experience. They strike a balance between speed and complexity, making them popular choices among many players.
80-ball bingo rooms like the "Boombox" are perfect for those seeking a unique spin on the traditional game. This variation is an ideal blend between the fast-paced 30-ball game and the classic 90-ball bingo, providing a unique gaming experience.
Charming Bingo also offers the classic 90-ball bingo game in multiple rooms. This traditional form of bingo is beloved by many for its prolonged gameplay and, often, the most significant jackpots.
The bingo tickets are affordably priced, with some costing as low as 1p. This allows players to purchase multiple tickets for a game, thereby boosting their winning chances.
Charming Bingo truly lives up to its name, providing a charming gaming experience with its diverse game selection. This, coupled with the high-quality gaming experience, makes it deserving of a 4.5/5 rating. Whether you're a casual gamer or a seasoned pro, Charming Bingo is the place to be for a rewarding and entertaining gaming adventure.