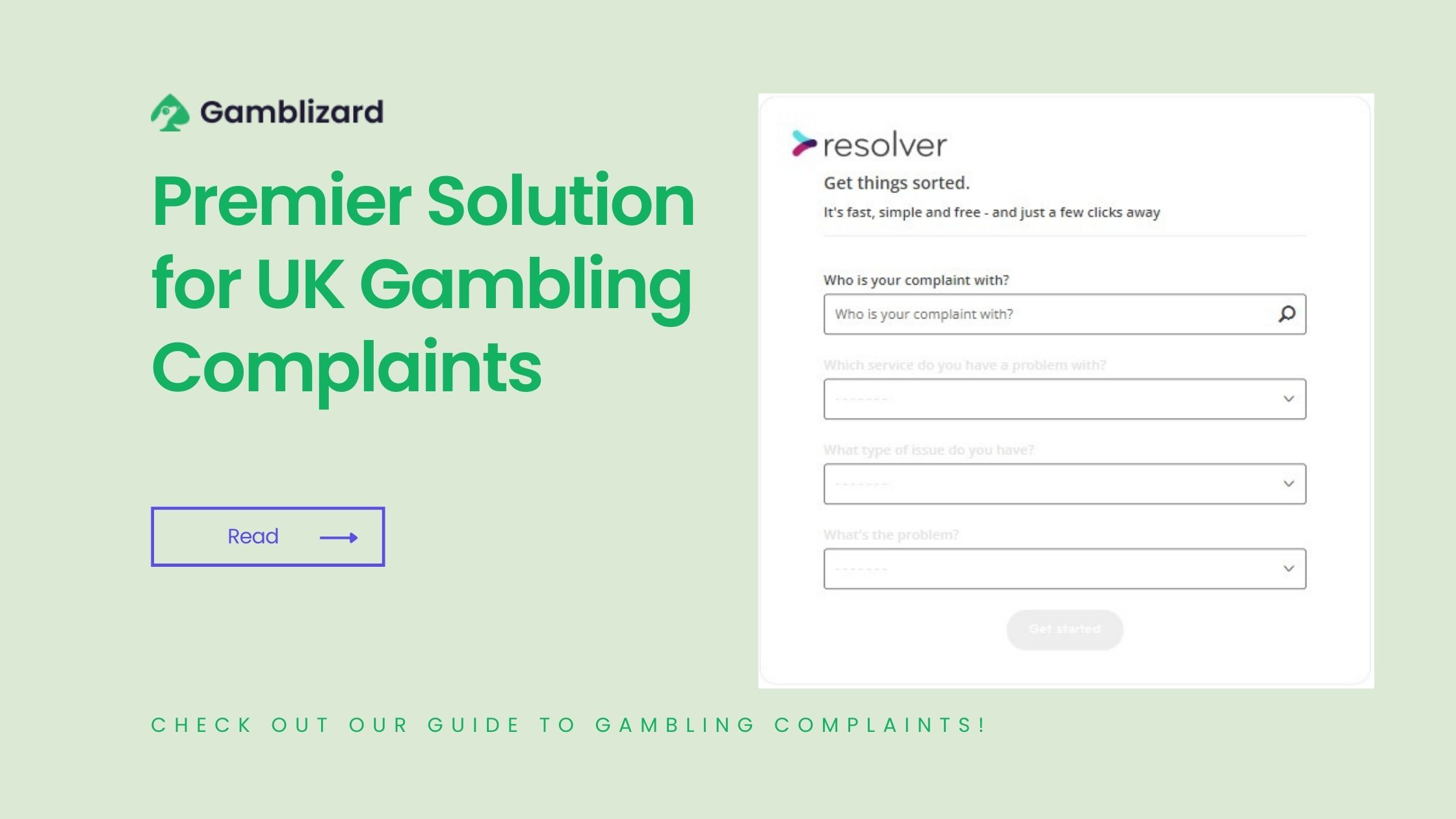 Introducing the Resolver Gambling Complaints Tool
What is Resolver
Think of Resolver as your go-to platform for addressing issues. It's an independent, free-to-use service that bridges the gap between consumers and organisations, ensuring that every issue sees an optimal resolution.
While many wonder about the sustainability of this free service, the answer is simple. Over the years, Resolver has amassed a wealth of knowledge by assisting countless individuals tackle myriad issues. This extensive expertise is then shared with organisations eager to refine their approach to complaints. By examining trends and making predictions, Resolver provides invaluable insights, helping businesses enhance their services and rectify customer pain points. Importantly, users can rest assured that their data remains private and is never sold.
Resolver.co.uk Mechanism: How Does it Work
Unlike many complaint websites, Resolver doesn't seize control of your complaint. The entire system is tailored to empower you. All you need to do is search for the relevant company, provide a brief about your concern, and let the complaint platform streamline the rest.
Your complaint gets a dedicated file, allowing you to monitor progress, communicate with the concerned entity, add evidence, or even download the entire case to your device. This systematic approach ensures you're always communicating with the right person at the right juncture. The Resolver website extends its reach to thousands of household brands. And if things don't go smoothly, there's the provision to escalate the issue; Resolver collaborates with numerous ombudsmen and regulatory bodies to facilitate complaint resolution.
Understanding Your Rights with Resolver
Knowledge is power, especially when it comes to rights. Resolver simplifies rights for the everyday consumer, cutting through the jargon to deliver clear, actionable advice. Each guide provides vital insights into various issues, and when the going gets tough, Resolver's expert guidance ensures you're never in the dark.
Recognition Through Resolver
Resolver's recognition system utilises consumer feedback to rate companies, identifying the top players in customer service.
The Ethical Cornerstone and Data Usage
Resolver is committed to transparency and utilises complaint data responsibly. Biannually, the platform releases aggregated complaint data segmented by sectors like online shopping, energy or gambling. Occasionally, Resolver contributes to media campaigns supporting causes aligned with its ethos, ensuring that individual complaint details are disclosed only with express consent.
Assurance in Information Security
Demonstrating its commitment to top-notch service and security, Resolver (or Resolving Ltd) has clinched the ISO 27001 certificate, recognising its impeccable online complaint service, business analytics, and online mediation tool.
Valued Partnerships and Additional Support
Resolver's influential voice in consumer issues has garnered partnerships with leading UK consumer rights experts, media houses, and advisory groups. Whenever specialised guidance is the need of the hour, Resolver is quick to recommend its esteemed partners.
Understanding that every issue might not fit into a mould, Resolver also directs users to other organisations for specialist advice, ensuring everyone finds the support they deserve.
Understanding Gambling Complaints
From inaccessible accounts to challenges in withdrawing your earnings, there are numerous reasons to communicate with a gambling firm or bookmaker. Resolver streamlines this process for you. This tool by Resolver assists you in preparing and filing your grievances related to gambling. Dive into our detailed gambling complaints guide!
Know Your Rights
Every gambling business must disclose its complaint handling procedure. This information can be accessed both in their physical outlets and online platforms. If you believe a gambling entity has acted unjustly, Resolver can facilitate your complaint submission to an Alternative Dispute Resolution (ADR) body. And if the ADR doesn't address your grievances, the Gambling Act 2005 permits you to take the matter to court. Remember, when wagering with a gambling firm, you legally bind yourself to a contract.
Withdrawing Winnings – An Issue
Are you encountering unnecessary hurdles when trying to access your money? Complain with Resolver. The UK's Gambling Commission is in your corner, maintaining that bookmakers shouldn't unjustly withhold your earnings. However, bookies can prevent withdrawals if they detect suspicious activities or inconsistencies in your account. They must define and adhere to their set rules. If you suspect unjust treatment by a bookmaker, Resolver is here to assist.
Account Closure – What Next
A gambling enterprise holds the discretion to terminate any account for various reasons like potential harm, violation of terms, business risks, or money laundering suspicions. If in doubt about the closure of your account, Resolver can initiate communication with the company. Always ensure that gambling businesses act in alignment with their terms and conditions. If you're on the receiving end of what you deem unfair treatment, start a Resolver case.
Self-Excluded But Still Gambling
The Gambling Commission mandates responsible management of self-exclusion by gambling firms. They should conduct due diligence to ensure you're eligible to play. Firms typically review your status during account creation and withdrawal attempts. When self-exclusion is identified, your wagers will likely be nullified and deposits returned. If a company has acted irresponsibly, consider raising a complaint via Resolver.
Unclear Terms and Conditions
The Consumer Rights Act 2015 stipulates that gambling businesses must concisely summarise their T&Cs in understandable language. If you find their T&Cs vague and filled with jargon, turn to Resolver's complimentary gambling complaints tool.
Odds Discrepancy Issues
When wagering, you're bound by the odds available at that moment. Misquoted or erroneously displayed prices don't count. However, specific exceptions apply, like when betting at starting prices for horse and greyhound racing. Verifying the odds with the cashier when placing the bet is essential. If you suspect deliberate false odds advertising or unfair payouts, Resolver can guide your complaint.
Best Odds Guaranteed (BOG) – Your Entitlements
BOG, offered by most major bookies, assures you the best odds. If the starting price (SP) exceeds the early price during the BOG offer period, the bookie should settle at the higher SP. However, there's typically a cap on BOG benefits. Ensure you're well-informed about such details; Resolver can support your complaint if you feel misled.
Accumulators and 'Related Bets' – The Fine Print
Bookmakers sometimes have distinct rules about related accumulator bets, termed "related contingencies". Although such bets might get accepted, they might be invalid, voiding any payouts. For clarity on how these bets work, always refer to the bookmaker's stipulated rules.
Late Bets – What's the Deal
Most bookies offer a short window to place bets after an event begins, varying based on the event type. The cut-off is system-defined. If you believe your bet was unfairly tagged as late, our Resolver tool can aid in reaching out to your bookmaker.
Discrepancy in Official Results
Sometimes, officials may credit incorrect results, like attributing goals to the wrong players or disqualifying athletes post-event due to drug violations. If there's ambiguity regarding the outcome of your bet, consult your bookmaker first. Unhappy with their response? The Resolver can steer your complaint to an ADR.
Understanding Cash-out Options
Many betting firms offer a feature called "cash-out" during live matches. But it's intricate. For instance, during significant events in a match like a goal, free kick, or corner, bookmakers might temporarily halt the cash-out option.
This effectively implies that cashing out on multi-selection bets can be challenging. Bookmakers, hence, can retract the cash-out offer anytime. If you believe the terms for cash-out were ambiguous, the Consumer Rights Act (2015) may back your appeal.
Discrepancies with Betting Slips
If your bet, made via a football coupon, mismatches the receipt, it might be due to a scanning glitch. However, it's essential for punters to ensure their receipts align with their bets. In such scenarios, the bet will be settled as per the receipt.
When presenting a marked betting slip, again, it's up to you to ascertain that the given receipt corresponds with your slip.
Dealing with Unlicensed Gambling Firms
All gambling establishments, both brick-and-mortar and online, catering to British clientele, must possess a valid licence from the Gambling Commission. This licence should be prominently displayed. Gambling with an unlicensed entity strips you of any rights in case of disputes. Always validate the company's licence before placing bets.
Unclear Game Rules
Gambling operators are mandated to provide clear rules for each game they offer. Depending on the entity type, they might also need to furnish players with detailed guides. Before diving into a game, please acquaint yourself with its rules. If you find the guidelines ambiguous, you might have a case under the Consumer Rights Act (2015).
Interruptions During Play
Gambling entities should have explicit protocols for game or bet disruptions. For instance, horse racing betting might have particular guidelines for delayed races or withdrawn horses. If unsatisfied with the resolution provided, consider using Resolver for lodging a complaint.
Clarity on Betting Slips
It's pivotal to ensure your betting slip is legible. Bookmakers will interpret and settle your bet based on the slip's content, not your intent. Ensure clarity when placing bets.
Rights Regarding FOBTs and SSBTs
FOBTs
The regulations surrounding fixed odds betting terminals are under scrutiny. Current discussions revolve around wagering limits per transaction. If you have concerns, it's recommended to raise a complaint using Resolver's tool. Voicing concerns might expedite resolutions.
SSBTs
SSBTs, commonly seen in betting shops, might be misunderstood. While they might appear to be operated by bookmakers, many are run by Best Gaming Technology, a Playtech subsidiary. This can lead to discrepancies in settling bets as compared to over-the-counter terms.
Over-gambling Concerns
Online gambling platforms must offer a 'reality check' option—a scheduled pause during play. They should also display the elapsed time since the start of a gambling session, especially if the app hides the device's clock. Additionally, players must be able to set spending limits.
Still Receiving Marketing After Self-exclusion
If you've opted for self-exclusion but are still inundated with marketing materials, reach out to your bookmaker via Resolver. They are legally obligated to cease such communications, failing which they breach the Data Protection Act (1998).
Withdrawal Limits Exceeding Deposit
The CMA mandates that gambling entities shouldn't set withdrawal minimums higher than deposit limits. Furthermore, players shouldn't be coerced into repeated play before withdrawals, and any game restrictions should be made transparent.
Understanding Offers on Free Spins and Bonuses
Many online gambling platforms are enticed with free spins, bonuses, and site credits. It's crucial to peruse the terms and conditions. For instance, some might require a deposit to avail of the bonus. The Gambling Commission advocates for the ability to retract funds if one chooses not to gamble. If you face hurdles, consider raising a complaint via Resolver.
Having Multiple Gambling Accounts
In the gambling arena, it's typical for operators to allow their customers just one account. Why is this?
The primary reason is to deter customers from opening several accounts to take undue advantage of lucrative sign-up offers. Secondly, it's a measure to prevent customers from placing large bets that might be restricted by the bookmaker via several accounts.
If someone from your household decides to open an account with the same company after you've already signed up and availed of their offer, you might find yourself in a fix. This could lead to not only forfeiture of any winnings but also your account closed and your deposits seized. Hence, always peruse and comprehend the terms and conditions of the operator before diving in.
Gambling Advertising Nuances
Concerns about Inappropriate Ad Content
Licence holders are expected to abide by guidelines set by the Committee for Advertising (CAP) and the Broadcast Committee for Advertising Practice (BCAP) and adhere to industry advertising standards.
Targeting Vulnerable Groups with Ads
Protecting children and the vulnerable from gambling's potential harm is paramount. The Advertising Standards Agency (ASA) oversees UK gambling advertising, ensuring that such promotional materials don't cater to minors or vulnerable individuals.
Experiencing Misleading Advertising
Did you feel misled by a gambling ad? The Resolver platform is your go-to for complaining.
Receiving Ads Despite Self-Exclusion
After self-exclusion, it's crucial to notify your bookmaker immediately if marketing material still lands in your inbox. The Resolver tool can greatly assist in stopping further promotional material from reaching you, safeguarding your rights under the UK's Data Protection Act (1998).
The Intricacies of Football Betting
Clarifying Extra-time Bets
It's essential to differentiate between betting on the full match result, inclusive of extra time, and the 90-minute outcome. The term "match" typically refers to the 90 minutes of playtime, including any added time for stoppages. Ensure clarity on such nuances with your bookmaker, especially for cup matches or playoffs.
Decoding Goalscorer Betting
Before placing an anytime goalscorer bet, verifying the options with your bookmaker is prudent. Typically, such bets don't include their own goals. For any ambiguities or perceived misleading terms, the Resolver tool is on hand to facilitate your complaint.
Navigating the "Five-minute" Rule
Bets placed after kick-off might be subject to the "five-minute" rule, implying that such bets are valid only if no significant events (like goals, penalties, or red cards) occur in the game's first five minutes. However, there might be variations depending on the specific bookmaker.
Horse Racing Insights
Demystifying Rule 4
A withdrawn horse can impact the winning chances of other participating horses. Rule 4 is a deduction mechanism that bookmakers apply to your winnings in such scenarios, especially when you've opted for fixed odds before such a withdrawal.
Understanding Overseas Racing Bets
When betting on overseas races, you might notice that your settled bet's odds are shorter than anticipated. This discrepancy can arise when settlement is done based on the bookmaker's designated price rather than the official rate provided by the racing track.