From Rags to Riches to Rags Again: 21 Lottery Winners Who Lost Everything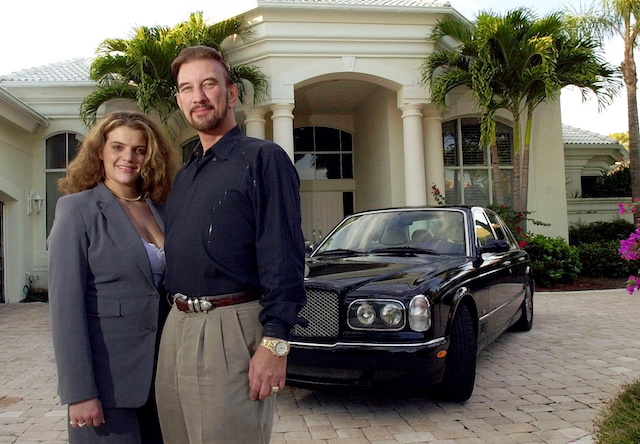 Powerball winner David Edwards and his fiance, Shawna Maddux, pose in front of their new home and luxury car Wednesday, Nov. 14, 2001, in Palm Beach Gardens, Fla. Edwards won $27 million after taxes in the Powerball lottery, and he has given a chunk of his winnings – $700,000 so far – to those who need it. (AP Photo/Tony Gutierrez)
When I was a repo man, one of my more unusual assignments was repossessing a Cadillac from a recent $1 million lottery winner.
While investigating to determine where the vehicle was hidden, I learned that when the annual lottery checks arrived she quickly spent them partying, leaving her without enough to make her car payments. One night, I drove her car away while she slept.
It's tough to say how often lottery wins have happier endings. Given the many national lotteries around the world and the 44 state lotteries in the U.S., there have probably been thousands of $1 million-plus winners, and some of them must responsibly manage their winnings.
But sadly, some lottery winners lose it all very quickly.
It's too easy to find one tragic real-life case after another. Here are 21 of the worst. And what if you win big in the lottery someday? What mistakes should you avoid? The lessons are pretty clear, and they're right there in the stories if you pay attention.
1. A Typical Story?
Lisa Arcand won $1 million in the Massachusetts lottery in 2004. She bought a house and went on vacations like many winners.
Of course, a million dollars isn't much after taxes, so she also opened a restaurant to make some additional income. Sadly, within a few years she ran out of money and closed the failing restaurant. In 2007, she said of her lottery experience, "Actually, it's been very depressing."
2. From Millionaire to Factory Worker
Michael Carroll was a garbage man in England when, at age 19, he won £9.7 million (about $14.4 million at the time) in the lottery in 2002. A mansion, drugs and gold jewelry ate up the money quickly.
By 2012, Carroll was broke and living off unemployment checks. Now he works in a slaughterhouse, making £400 (about $511) per week.
3. Party Down… and Down, and Down
Gerald Muswagon, of Winnipeg, Manitoba, won $10 million in 1998. He bought cars for friends and family, and made his new house into a "party pad."
Eventually, he'd spent all his money and he took a minimum-wage job to support his six children and his girlfriend. In 2005, just seven years after his big win, he took his own life.
4. Generous to a Fault
Janite Lee won $18 million in 1993. Although her gambling habit reportedly cost her more than $300,000 per year, she may have spent more on charitable and political donations. Her generosity included $1 million for Washington University to build a new library. In 2001, she filed for bankruptcy.
5. Millionaire or Murderer?
Willie Hurt won $3.1 million in the Michigan lottery in 1989. The money didn't last long. Within two years Hurt wrecked his marriage, lost custody of his kids and was charged with attempted murder. He spent his winnings on his divorce and drugs, according to his attorney.
6. Big Winner Goes Deep in Debt
Suzanne Mullins won $4.2 million in 1993 in the Virginia lottery. She split the prize with her husband and was supposed to receive 20 annual after-tax payments of $47,778.
But when money got tight, she borrowed from a company that lends cash to lottery winners. In 2000, the lottery rules changed, allowing Mullins to collect the rest of her money all at once. She apparently spent the money rather than pay back what she owed to the lottery lender, and in 2004 a court ruled she still owed the company $154,147.
7. $31 Million Gone in Two Years
Billie Bob Harrell Jr. won $31 million in the Lotto Texas game in 1997, and he no longer had to stock shelves at Home Depot.
He bought a ranch and a few homes, gave money to his church and made loans to friends. Everyone wanted a piece of his money, and soon his marriage was in trouble as he lent and spent all of his winnings. In 1999, less than two years after his big win, Harrell took his own life.
8. Big Spending
Sharon Tirabassi, of Hamilton, Ontario, won $10.5 million in 2004. She treated friends to vacations in Cancun, Las Vegas, California, Florida and the Caribbean. She got married and bought a house for $515,000 — and got a $360,000 mortgage loan rather than paying all cash. She bought numerous cars, including one that cost more than $200,000, and gave millions of dollars to family and friends.
By 2007, half of her money was gone. By 2008, with her husband in jail for a DUI, Tiribassi lost their home. Now, to pay the rent and support her kids, she takes the bus to her part-time job.
9. Living for the Moment
Lou Eisenberg won $5 million in 1981, which at the time was the largest lottery win ever. After taxes, he received payments of $120,000 annually for 20 years. He bought a condo in Florida, took trips to Europe and Hawaii, and gambled. He also gave cash to whoever he figured needed it. Of his spending, he says, "I lived for the day."
Shortly after cashing his last check in 2001, Eisenberg was broke. Now 81 years old, he lives in a mobile home on social security and pension income that amounts to about $1,000 a month.
10. Elderly Lottery Winner Looking for a Job
Vivian Nicholson, of Castleford, England, won £152,300 in 1961, the equivalent of about £3 million today ($3.5 million). She famously vowed to "spend, spend, spend!" She bought expensive designer dresses, vacations, and a new car every six months.
By the 1970s, Nicholson was broke. In 1998, she received money from "Spend, Spend, Spend," a musical about her life, and spent it all quickly. By 2007, at age 71, she was living on a pension of £87 weekly ($102), and was looking for a job. After sending out 25 resumes, she still hadn't found one. She died in 2015.
11. Karmic Lottery Loss
Denise Rossi won $1.3 million in the California Lottery in 1996. But instead of telling her husband of 25 years — who thought they were happily married — she asked for a divorce, and said she wanted it done quickly.
Soon after the divorce, Rossi's ex-husband discovered her deception. In 1999, a judge determined that she had broken asset disclosure laws, and he awarded her husband every penny of her winnings.
12. "Nightmares"
William "Bud" Post won $16.2 million in 1993, and five years later said, "Everybody dreams of winning money, but nobody realizes the nightmares that come out of the woodwork, or the problems."
Post's brother tried to hire someone to kill him and his wife. A landlady forced him to give her a third of his winnings. He was convicted of assault for firing a shotgun at a bill collector, and for passing bad checks. He declared bankruptcy. When Post died in 2006, he left behind little or nothing for his seventh wife and the nine children he had with his sixth wife.
13. Killed for His Money?
Urooj Khan won $1 million in the Illinois lottery in 2012, and opted for the lump-sum payout of $424,500 instead of annual payments. He planned to use the money to expand his dry-cleaning business.
Sadly, Khan died less than a month after winning, the day after his check was mailed. While his death was ruled natural at first, a test later revealed that he had been poisoned with cyanide. The police have not named a suspect, and a subsequent autopsy revealed nothing more.
14. Another Lottery Winner Poisoned
Ibi Roncailoli won a $5 million Lotto prize in 1991, in Ontario, Canada. Soon afterward, she gave $2 million of her winnings to a child she had secretly had with a man who was not her husband.
When her husband, gynecologist Joseph Roncailoli, discovered the truth, he poisoned his wife. He went to jail for manslaughter, but not before reportedly asking Ibi's family for help in paying for her funeral.
15. Two Lottery Wins, Very Little Money
Evelyn Adams won the New Jersey lottery twice, in 2005 and 2006, collecting $5.4 million in total. Spending sprees, bad investments, gifts to family and a gambling habit all helped her get rid of the money quickly.
16. Defrauded by a Friend
Marva Wilson won $2 million in the Missouri lottery in 2012. Freya Pearson, whom Marva considered a friend, tricked her into giving Pearson unrestricted access to her bank account.
Pearson used the money to travel, gamble and buy cars and an apartment, spending more than $640,000 of Wilson's winnings. Just two years after cashing in her winning ticket, Wilson was broke.
17. Tax Fraud and Other Problems
Alex Toth won $13 million in the Florida lottery in 1990. He lived well for a few years, then went broke, split up with his wife, got in trouble for filing false tax returns and spent some time in a mental institution. He avoided going to trial for the tax fraud charges by dying, penniless, at age 60 in 2008.
18. Yet Another Lottery Divorce
Lara and Robert Griffith won £1.8 million ($2.1 million today) in the Lotto in 2005. They bought a home for £670,000 ($790,000), along with a Lexus 4×4 and a Porsche convertible. Robert paid for his band to have a record made, and Lara splurged on designer handbags. They set up a beauty salon business.
Then, six years later, Roger disappeared with the Porsche and Lara discovered suspicious emails on his computer. He denied having an affair, but the marriage ended, the money was gone and now Lara is an employee at the salon they used to own.
19. Too Young to Win?
Callie Rogers is perhaps the youngest big lottery winner. At age 16, she won £1.9 million ($2.2 million) in 2003. Her winnings went toward cosmetic surgery, drugs and partying. She says she attempted suicide three times.
Now married and a mother of three, she has only £2,000 ($2,359) left in the bank, but says she is finally happy. She says of the experience, "I was too young to win the lottery — I don't think 16-year-olds should be eligible."
20. A $27 Million Spending Spree
David Lee Edwards split a $280 million Powerball jackpot with three others, a win that came while he was unemployed and living in his parents' basement. After taxes, he received a lump sum of $27 million. He bought a $600,000 house, a $1 million fleet of cars, a $78,000 watch, a $1.9 million jet, 200 swords and other medieval weapons, and a $4.5 million fiber-optics installation company. He also married a woman 19 years younger than he was.
Within a year, he had spent $12 million. The house was soon lost to foreclosure, his wife was arrested for stabbing a boyfriend, and David died at age 58 in 2013.
21. A Millionaire Wins the Lottery
Jack Whittaker was already a millionaire when, on Christmas of 2002, he won $314.9 million, the biggest single-person lottery win in history. He opted for a lump-sum payment, which after taxes, left him with $93 million. His contracting business, which employed over 100 people, provided a great living, but his humble lifestyle meant few people knew how much he made. The lottery winnings were apparently a different kind of income.
Whittaker spent money at strip clubs and casinos. He gave millions to charities. His habit of leaving cash in his car resulted in thefts of $545,000 one time and $100,000 another, and his house was robbed. He showered gifts and cash on his beloved 16-year-old granddaughter, who spent much of the money on drugs. A year later, she was found, apparently murdered.
Whittaker rarely speaks to the press now, and some reports say he is broke. When asked if life was easier before his big win, he said, "Yeah, it was a lot easier then."